Diagnostic Ultrasounds
Pain-Free Diagnosis in Montgomery County
We at Kentlands Foot and Ankle are pleased to offer diagnostic ultrasound in office for immediate injury diagnosis. A diagnostic ultrasound is a non-invasive imaging technique that can help quickly diagnose problems with soft tissue in your foot or ankle. Sound waves are sent out from a probe, collide with body tissue, and return to the probe—creating an image that our Montgomery County podiatrists can use to help diagnose the source of your foot or ankle problems.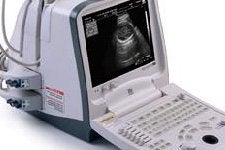 Diagnostic ultrasounds have many benefits, including:
Speed: Imaging from diagnostic ultrasounds is produced immediately.
Cost: Diagnostic ultrasounds are a more cost-effective option than other tests, such as MRIs and CT scans.
Painlessness: Diagnostic ultrasounds use no radiation, and are harmless, non-invasive and pain-free.
Effectiveness: These ultrasounds are extremely effective in diagnosing soft tissue problems.
Are you living in Montgomery County and searching for a fast, effective, and painless diagnosis for your foot or ankle problem? Call Kentlands Foot and Ankle Center at (301) 330-5666 and schedule a diagnostic ultrasound today!