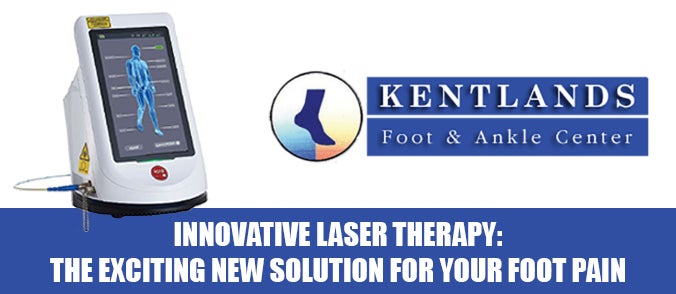 Kentlands Foot & Ankle Center is thrilled to be able to offer state-of-the-art laser-aided foot pain relief using the Remy Class IV Laser. This Class IV laser therapy is used for the relief of pain, to accelerate healing, and decrease inflammation. Laser therapy is a safe and effective treatment that uses focused light to treat a wide range of foot and ankle conditions such as plantar fasciitis, ankle sprains, Achilles tendonitis, arthritis and more.
How Remy Laser Therapy Works
When the light source is placed against the skin, photons penetrate serval centimeters down and are absorbed by the mitochondria (the energy producing part of a cell). This energy results in the restoration of normal cell function. The main goal of the laser therapy is to stimulate the cell to perform its natural function.
Benefits of Laser TherapyThe biggest benefit of this therapy is that it's a non-invasive treatment, which means you will experience no pain or discomfort during your sessions. Other benefits include the following:
Therapy is easily applied
Highly effective for various conditions
Eliminates pain
Reduces the need for pharmaceuticals
Restores normal range of motion and physical function
Nontoxic
No known adverse side effects
Provides alternative for patients who have tried other modalities
You will notice a gradual reduction in inflammation and an increase in tissue repair with each session. When combined with physical therapy, laser therapy will have you back to enjoying a pain-free life in no time!Say goodbye to chronic foot and ankle pain with help from our experienced podiatry team!Monika Twardzik-Roberts, a physical therapist with more than 20 years of experience treating a variety of conditions has joined Dr. Sherman's office to provide individualized one-on-one treatments utilizing both pain laser and shockwave therapy in conjunction with manual therapy, exercise, and other treatments. Your sessions will focus on facilitating healing of the injured or dysfunctional area and integrating it back into a healthy and functional body.Dr. Sherman has been healing patients for over 10 years using pain laser and 20 years with shockwave therapy as non-invasive treatment options. We are now able to broaden the scope of treatment areas with the addition of Monika's experience and expertise.Whether you are experiencing chronic heel pain, problems with your ankle, or nail infections, you can trust the expertise of our team to help diagnose the problem and find the best treatment option for you. We will take the time to explore your unique needs and answer your questions prior to recommending the next steps. We always provide a straightforward plan with a consultative approach to help you feel comfortable and ready to proceed with treatment.Please call our office at 301.330.5666 to schedule your laser therapy consultation and get relief from your foot pain. You may also use our convenient online appointment form.
Why Choose Us?
Board Certified
20 Years' Experience
Friendly and Helpful Office Staff
Specializing in Non-Invasive Treatments
Professional, Individualized Care with the Most Up-To-Date Technology