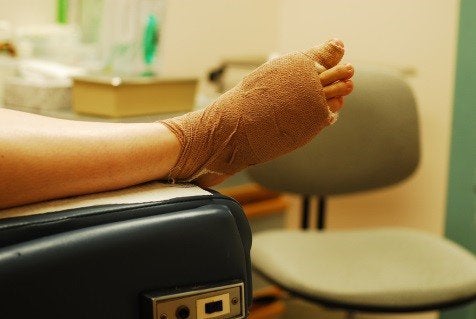 LeBron James is the most recent Cleveland Cavalier to suffer from injury this season; however, he is still allowed to stay in the game. Kevin Love and Kyrie Irving both have injuries and need to keep pushing James to get ahead. The injury occurred when James stepped on Derrick Rose's foot during a fast break. The move caused him to turn his ankle, writhing in pain on the ground before walking to the bench for treatment. For now, LeBron James is still capable of playing for the Cavaliers.
Ankle injuries are common, but need to be treated as soon as possible. If you have any concerns about your ankles contact Jon M. Sherman of Kentlands Foot and Ankle Center . Our doctor will treat your foot and ankle needs.
What To Know About Ankle Injuries
It is very common to incur an injury to the ankle. As the point of connection from the leg and the foot, the ankle is susceptible to sprains and fractures due to its location. Ankle sprains, the most common ankle injury, occur when the foot is twisted in an unnatural way. This unnatural twisting of the ankle results in severe pain as a result of inflammation and swelling. This inflammation and swelling comes from fluid leakage into the tissues, which sensitize and place additional pressure on the nerves. Heavy blood flow also occurs, which is why swollen ankles are warm to the touch. Ankle sprains can occur by the following means:
Sports injuries
Slipping on stairs
Walking on uneven ground
While ankle sprains can be minor, if you are experiencing severe pain, bone deformity, loss of sensation or even an inability to walk, it is a sure sign that you require immediate medical attention. X-rays could determine potential fractures. The ankle can experience injury in the joint, tendons, and ligaments. Anytime there is an ankle injury ice should be applied to the injured area in order to reduce inflammation. To reduce pressure, elevate the ankle above the level of the heart and apply an elastic bandage as needed.
If you have any questions please feel free to contact our office located in Gaithersburg, MD . We offer the newest diagnostic tools and technology to treat your foot and ankle needs.