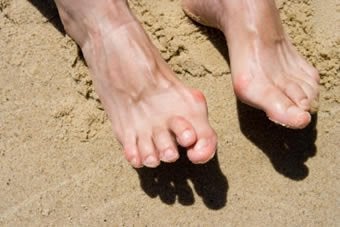 Hammertoe is a condition that occurs as a result of the middle toe joint becoming dislocated. While it can affect any toe on the foot, it usually occurs in the second or third toe. If you suspect that you have hammertoe, you should treat it as soon as possible since it can lead to other conditions including calluses, sores, and blisters. In terms of its causes, hammertoe can result from arthritis, high arches, or pressure from tight shoes. A simple fix for people who have hammertoe due to the shoes they wear is to wear shoes that fit properly. If you have high arches in your feet that caused your hammertoe, you should look toward getting insoles for treatment. In some cases, there isn't a simple option for treatment and surgery may be necessary.
Hammertoes can be a painful condition to live with. For more information, contact Dr. Jon M. Sherman of Kentlands Foot & Ankle Center . Our doctor will treat your foot and ankle needs.
Hammertoe
Hammertoe is a foot deformity that affects the joints of the second, third, fourth, or fifth toes of your feet. It is a painful foot condition in which these toes curl and arch up, which can often lead to pain when wearing footwear.
Symptoms
Pain in the affected toes
Development of corns or calluses due to friction
Inflammation
Redness
Contracture of the toes
Causes
Genetics – people who are genetically predisposed to hammertoe are often more susceptible
Arthritis – because arthritis affects the joints in your toes, further deformities stemming from arthritis can occur
Trauma – direct trauma to the toes could potentially lead to hammertoe
Ill-fitting shoes – undue pressure on the front of the toes from ill-fitting shoes can potentially lead to the development of hammertoe
Treatment
Orthotics – custom made inserts can be used to help relieve pressure placed on the toes and therefore relieve some of the pain associated with it
Medications – oral medications such as anti-inflammatories or NSAIDs could be used to treat the pain and inflammation hammertoes causes. Injections of corticosteroids are also sometimes used
Surgery – in more severe cases where the hammertoes have become more rigid, foot surgery is a potential option
If you have any questions please feel free to contact our office located in Gaithersburg, MD . We offer the newest diagnostic and treatment technologies for all your foot and ankle needs.
Hammertoes are painful deformities that frequently form on the second, third, or fourth toe. The condition is often caused by an issue in foot mechanics. This can be caused by the person's specific gait or the manner in which they walk, or by shoes that do not comfortably fit the deformity. Hammertoes can be formed after wearing shoes that are too narrow or short for the foot or have excessively high heels. Shoes that are not properly sized will force the toes into a bent position for long periods of time. This can cause the muscles to shorten and toes to bend into the deformity of a hammertoe.
Hammertoe can also be caused by complications from rheumatoid arthritis, osteoarthritis, trauma to the foot, heredity, or a cerebral vascular accident. Pain and difficult mobility of the toes, deformities, calluses, and corns are all symptoms of a hammertoe.
Someone who suspects they have the symptoms of a hammertoe should consult with a physician—particularly a podiatrist. Podiatrists diagnose and treat complications of the foot and ankle. If the podiatrist discovers that the affected toes are still flexible, treatment for the hammertoe may simply involve exercise, physical therapy, and better-fitting shoes. Treatment for hammertoes typically involves controlling foot mechanics, such as walking, through the use of customized orthotics.
For more serious cases in which the toes have become inflexible and rigid, surgery may be suggested. During the operation, the toe would receive an incision to relieve pressure on the tendons. A re-alignment of the tendons may then be performed by removing small pieces of bone to straighten the toe. In some cases, the insertion of pins is needed to keep the bones in the proper position as the toe heals. The patient is usually allowed to return home on the same day as the surgery.
If surgery is performed to repair a hammertoe, following the postoperative directions of your doctor is essential. Directions may include several stretches, picking up marbles with your toes, or attempting to crumple a towel placed flat against your feet. Wear shoes that have low heels and a wide amount of toe space to maintain comfort. Closed-toe shoes and high heels should be avoided. Shoes with laces allow the wearer to adjust how fitted he or she may want the shoes to be and also allow for greater comfort. To provide adequate space for your toes, select shoes that have a minimum of one-half inch of space between the tip of your longest toe and the inside of the shoe. This will also relieve pressure on your toes and prevent future hammertoes from forming.
Other preventative measures that can be taken include going shopping for new shoes in the middle of the day. Your feet are its smallest in the morning and swell as the day progresses. Trying on and purchasing new shoes midday will give you the most reliable size. Be sure to check that the shoes you purchase are both the same size. If possible, ask the store to stretch out the shoes at its painful points to allow for optimum comfort.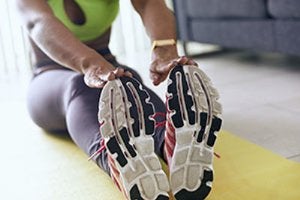 It is important that you get a proper fit for any type of athletic shoe you want to purchase. You may find it helpful to go to a specialty store that has workers who can measure your feet correctly in order to make sure your new shoes fit. Another tip is to avoid looking for the cheapest option, because cheaper shoes often equate to worse quality. When you go to a specialty store, the staff will likely ask you what activity you plan to participate in. This is because there a different types of shoes that correspond to different activities. Walking shoes should be worn if you plan on going for a walk, and running shoes should be worn if you want to go on a run.
Finding a properly-fitting shoe is important in reducing injuries and preventing foot problems. For more information about treatment, contact Dr. Jon M. Sherman of Kentlands Foot & Ankle Center . Our doctor can treat your foot and ankle needs.
Proper Shoe Fitting
A common concern when it comes to foot health, having properly fitted shoes can help prevent injuries to the foot. Out feet affect our posture and gait, which in turn affects the biomechanics and overall bodily structure. With 33 joints, 26 bones, and over 100 ligaments, the potential for serious injury is much greater than one realizes. Although the feet cease growth in adulthood, they still change shape as they mature. Here are some factors to consider when it comes to investing in proper fitting shoes:
Be sure the shoes fit correctly right away
Ensure the ball of your foot fits comfortably in the widest portion of the shoes
Even though they may look fashionable, improper fitting shoes can either create adverse conditions or exacerbate existing ones you may already have
Walk along a carpeted surface to ensure the shoes comfortably fit during normal activity
Keeping in mind how shoes fit the biomechanics of your body, properly-fitting shoes are vitally important. Fortunately, it is not difficult to acquire footwear that fits correctly. Be sure to wear shoes that support the overall structure of your body. Do your feet a favor and invest in several pairs of well-fitted shoes today.
If you have any questions please feel free to contact our office located in Gaithersburg, MD . We offer the newest diagnostic and treatment technologies for all your foot and ankle needs.
Read more about proper shoe fitting.
When it comes to maintaining foot health, wearing properly-fitting shoes is important. While wearing the appropriate pair of shoes may seem like a trivial concern, the reality is that improperly fitted shoes cause an astounding amount of injuries to the feet. The overall structure and the biomechanics of our bodies are directly affected by our posture, gait, and feet. Because of this, pain and discomfort felt throughout the body are often related to a problem in the feet. And, most foot problems usually stem from improper footwear.
Shoes should not be purchased with the expectation that they will easily stretch and contort to the size and shape of your feet. When shopping for footwear, look for shoes that fit correctly and comfortably as soon as you put them on. Do not purchase shoes that are too large or that slip in the heel area when you walk. Do not choose shoes that are loose with the intention of wearing thicker socks to compensate for the space. The widest portion of the shoe, the ball of the foot, must be made sure to fit comfortably in the shoe.
Keeping all of these suggestions in mind may be difficult when shopping and when trying to select from a wide array of different shoes. Nonetheless, your time and money will be wasted if you purchase a pair of shoes that are too uncomfortable for you to actually wear them. After finally selecting and purchasing a pair of shoes, try them on at home. To truly ensure whether or not your shoes fit comfortably with normal activity, walk around on a carpeted surface to determine how they feel on your feet.
The possibility of damaging your feet's 33 joints, 26 bones, and 100+ ligaments is much higher than many people suspect. Finding an appropriate and properly-fitted pair of shoes is perhaps the single most important action you can take to maintain excellent foot health and help prevent injury. The fact that our feet continue to change with age is one that many people often forget. Even if our feet no longer change in size when we mature, our feet will still change in shape.
If you already have pre-existing foot problems, there is a greater possibility that wearing improperly-fitted shoes will worsen those problems. The good news, however, is that appropriate footwear is not difficult to find. While shopping for shoes, remember that improper footwear can detrimentally affect the feet, the entire body and its biomechanical structure as well. The shoes you wear can greatly impact your legs, back, and entire body, as your posture and gait are related to your feet. Finding and selecting the best properly-fitted shoes is necessary in achieving optimal health.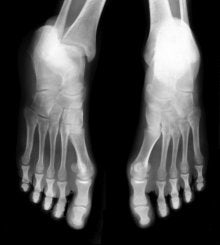 Podiatrists are known for treating and diagnosing conditions in the foot and ankle. In order to become a podiatrist, one has to complete four years of training in podiatry school and three years of hospital training. Some podiatrists specialize in certain areas such as pediatrics, sports injuries, wound care, and diabetic care. It is possible for podiatrists to earn board certification by undergoing advanced training and taking an exam. The two boards that are able to certify podiatrists are the American Board of Foot and Ankle Surgery and the American Board of Podiatric Medicine.
If you are experiencing pain in the feet or ankles, don't join the stubborn majority refusing treatment. Feel free to contact Dr. Jon M. Sherman of Kentlands Foot & Ankle Center . Our doctor can provide the care you need to keep you pain-free and on your feet.
What is a Podiatrist?
Someone would seek care of a podiatrist when they have suffered a foot injury or have common foot ailments such as: heal spurs, bunions, arch problems, deformities, ingrown toenails, corns, foot and ankle problems etc.
Podiatric Treatment
A podiatrist will treat the problematic areas of the feet, ankle or lower leg by prescribing the following:
physical therapy
drugs
perform surgery on lower extremity fractures
orthotic inserts or soles
A common podiatric procedure a podiatrist will use is a scanner or force plate which will allow the podiatrist to know the designs of orthotics. Patients are then told to follow a series of tasks to complete the treatment. The computer will scan the foot a see which areas show weight distribution and pressure points. The podiatrist will read the analysis and then determine which treatment plans are available.
If you have any questions please feel free to contact our office located in Gaithersburg, MD . We offer the newest diagnostic and treatment technologies for all your foot and ankle needs.
Read more about What is a Podiatrist
The branch of medicine that is focused on the treatment, diagnosis, and study of disorders of the lower leg, ankle and foot is referred to as podiatry. Because people often spend a great deal of their time on their feet, many problems in this area can occur. A person seeks help from the field of podiatry when they need treatment for heel spurs, bunions, arch problems, deformities, ingrown toenails, corns, foot and ankle problems, infections, and problems with the foot that are related to diabetes and additional diseases.
To treat problems of the foot, ankle or lower leg, a podiatrist may prescribe physical therapy, drugs, perform surgery, or set fractures. Individuals may also be recommended to wear corrective shoe inserts, custom-made shoes, plaster casts and strappings in order to correct deformities.
When trying to gather information on a patient problem, a scanner or force plate may be used in order to design orthotics. During this procedure, patients are told to walk across a plate that is connected to a computer; the computer then takes a scan of the foot and indicates weight distribution and pressure points. The computer readouts will give the podiatrist information to help them determine the correct treatment plans.
Diagnosis is also provided through laboratory tests and x-rays. Through the foot, the first signs of serious problems such as heart disease, diabetes and arthritis can show up. For example, individuals that have diabetes may frequently have problems such as infections and foot ulcers because they experience poor circulation in the foot area. A podiatrist can then have consultations with patients when symptoms arise. Referrals will then be made to specialists that handle the greater health problems.
Some podiatrists have their own independent, private practices or clinics where they have a small staff and administrative personnel. Many podiatrists work within group practices. They usually spend time performing surgery in ambulatory surgical centers or hospitals, or visit patients in nursing homes. Podiatrists typically spend between 30 to 60 hours of week working. Some podiatrists specialize in public health, orthopedics, surgery, or primary care. Other fields include specialties in geriatrics, dermatology, pediatrics, diabetic foot care and sports medicine.
Some podiatrist specialists complete extra training in the area of foot and ankle reconstruction that results from the effects of physical trauma or diabetes. There are also surgeons that perform surgery of a cosmetic nature to correct bunions and hammertoes.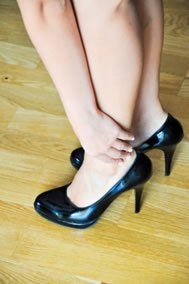 You may encounter a lot of different foot problems if your place of work requires you to frequently be on your feet. The two most common causes of foot injuries in the workplace are improper footwear and the flooring you may be standing on. Concrete floors are notorious for causing discomfort in those who have to stand on them for long periods of time. If your job allows you to, it is recommended that you use a cushioned mat to help prevent your feet from becoming fatigued. If you believe your footwear is the source of your foot pain on the job, you should opt for a shoe that fits you properly. You should also make sure that the socks you are wearing are not too tight on your feet, since this can lead to toe cramping.
While working on the feet, it is important to take the proper care of them. For more information about working on your feet contact Dr. Jon M. Sherman of Kentlands Foot & Ankle Center . Our doctor will treat your foot and ankle needs.
Working on Your Feet
Standing on your feet for long periods of time can cause stress and pain in your feet. Your whole body may experience change in terms of posture, back pain, bunions, callouses and or plantar warts. There are ways to avoid these conditions with proper foot care, smart choices and correct posture.
Positive Changes
Negative heeled shoe – choosing this shoe places the heel slightly lower than the ball of the foot. These are great for overall foot health. Find shoes that fit you correctly.
Go barefoot – our feet were not designed to be enclosed for hours, or all day. Try allowing yourself to expose your feet to air.
Eliminate Pain
Foot Exercises – performing simple exercises, incorporating yoga and stretches is beneficial. This will allow increased blood flow to the area and muscles of the foot.
Achilles tendon – stretching the foot out flat on the floor, will relax the calf muscles and tendon. These exercises can be performed almost anywhere. Make sure you add these exercises to your daily regimen.
With a little bit of this information and knowing more about foot health, you will notice changes. Foot stretches and proper footwear will help with pain and prevent further issues. Keep your feet healthy and your body will thank you for it.
If you have any questions please feel free to contact our office located in Gaithersburg, MD . We offer the newest diagnostic and treatment technologies for all your foot and ankle needs.
Read more about working on your feet
Foot care is important regardless of your profession, but those who work on their feet must pay special attention. Bunions, calluses, blisters, and plantar warts are just a few of the many conditions that can arise after standing all day. While painful at their worst, these conditions can easily be avoided with the right foot care. This includes both appropriate footwear and proper posture—important elements that affect the health of your feet.
Choosing appropriate footwear means choosing a shoe that has a negative heel. This means that the heel is slightly lower than the ball of your foot, which places less of a strain. If you have a profession that requires you to be on your feet all day, investing in a pair of high-quality shoes is pertinent. High-quality shoes can be purchased from a respected manufacturer that emphasizes foot care and foot health.
Despite the regularity of wearing shoes, the feet are naturally not designed to be enclosed. Regular "barefoot" time for your feet can be beneficial for foot health. Among other methods, allowing your feet to breathe can help alleviate the pain and pressure your feet may be experiencing from being on your feet all day.
Simple foot exercises and yoga positions can help improve both the health and function of your feet. Active foot exercises that create movement will stimulate your foot's blood flow and circulation, and yoga positions that place your feet flat onto the floor will stretch out their muscles. Yoga is particularly beneficial for your Achilles tendon and calf muscles, which are areas that can become especially problematic if not taken care of. Foot exercises and yoga positions can be easily performed every day at virtually any location and any time; whether it is at the office, at the gym, or at home right before you go to bed. Simple stretching can increase your foot health by miles.
The foot pain you experience after lengthy hours working on your feet may seem inevitable and unavoidable; in reality, however, that is not the case. Wearing proper footwear and performing simple foot exercises and stretches can help ease foot pain and allow you to truly avoid frustrating foot problems.
Your feet can easily be kept healthy with some education and a little effort. Pain that begins at the feet can eventually affect the whole body. Begin taking care of your feet now!
Archives
2017
2016
2015
2014