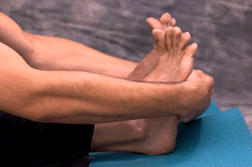 Sitting in chairs all day is bad for your body. But recent studies suggest that standing on flat ground is just as bad, and that these activities are putting our bodies into an unnatural constraint. Sitting for long periods of time is damaging to your circulation and metabolism, while flat ground hinders your natural gait. Repeated activity can lead to the body becoming weaker. It's important to take care of your body often, to maintain a healthy structure. You can do this by exercising your feet to help train your muscles. Huffington Post recommends going outside barefoot and standing on an uneven surface, like a rock. This will help stretch the structure of your feet.
Exercising your feet regularly with the proper foot wear is a great way to prevent injuries. If you have any concerns about your feet, see Dr. Jon M. Sherman of Kentlands Foot & Ankle Center . Our doctor will treat your heel pain symptoms in addition to other podiatric-related needs.
Exercise for Your Feet
Exercise for your feet can help you to gain strength, mobility and flexibility in your feet. They say that strengthening your feet can be just as rewarding as strengthening another part of the body. Your feet are very important and often we forget about them in our daily tasks. But it is because of our feet that are we able to get going and do what we need to. For those of us fortunate not to have any foot problems, it is an important gesture to take care of them to ensure its good health in the long run.
Some foot health exercises can include ankle pumps, tip-toeing, toe rise, lifting off the floor doing reps and sets, also flexing the toes and involving the shins may help too. It is best to speak with your doctor regarding how to do these fitness steps and how often is right for you. Everyone's needs and bodies are different and it varies from individual to individual to determine what should be done for you to maintain strength in your feet.
Once you get into a routine of doing regular exercise, you may notice a difference in your feet and how strong they may become.
If you have any questions please feel free to contact our office located in Gaithersburg, MD . We offer the newest diagnostic and treatment technologies for all your foot and ankle needs.
Read more about exercising your feet.
Whether your feet are over-worked or under-worked, chances are they could benefit from some special attention. Even those who exercise regularly probably do not spend any time strengthening their feet. This can be just as rewarding as strengthening the rest of the body, since the health of your feet affects the health of the rest of the body as well, especially the ankles, legs, and spine.
For those who might not have any idea on how a foot-specific exercise might be conducted, there are several workouts that are fairly easy to perform in the comfort of ones' home. One of the easiest is the toe rise, also known as the tip-toe. This exercise involves standing on the tip-toes for a count of 15 then resting the feet on the ground. This process should be repeated a minimum of three times a day in order to strengthen the feet.
Toe pick-ups strengthen the feet by working them in a very different way. In this exercise, small items are picked up using the toes in order to strengthen the muscles on the upper part of the feet. Once again three sets should be performed, with the item in question being held for 15 seconds then dropped. Items that may be picked up using the feet include marbles and even stationery, which works wonders for the toes and the surrounding muscles.
Yet another simple workout is the ankle pump. This can be done either upwards or downwards, but for the workout to be most effective both can be incorporated into the routine. As the term suggests, this involves lifting the foot off the floor and flexing the toes either towards the shin or towards the ground. This movement puts the feet and ankles through a large range of motion which works the muscles.
Last but not least, feet should be stretched so that the muscles can relax and recuperate. This can be done by placing both feet off of the floor and bracing oneself against the wall at a 45 degree angle. This ensures that the feet and ankles are adequately stretched once the workout is complete.
In short, giving the feet a good workout every now and then is important in order to avoid problems such as plantar fasciitis. It's also important to warm-up or cool-down after running or vigorous walking. Foot exercises may be followed by a good foot massage. This encourages circulation in the feet as well as muscle relaxation.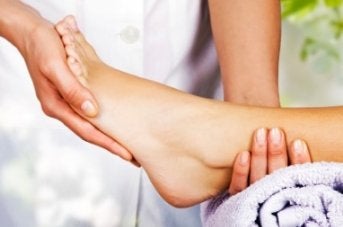 Ingrown toenails can become a nuisance when they start causing pain. If not treated, ingrown toenails can also lead to infection. There are many ways to prevent ingrown toenails, and those include maintaining your feet often. When cutting your toenails, make sure to cut straight across and refrain from cutting them in a round shape. Avoid wearing footwear that is tightly-fitting and uncomfortable as well as socks that can push your nails. Being mindful of the comfort of your feet is important for maintaining your overall health.
Ingrown toenails can become painful if they are not treated properly. For more information about ingrown toenails, consult with Dr. Jon M. Sherman of Kentlands Foot & Ankle Center . Our doctor will assist you with all of your podiatric concerns.
Ingrown Toenails
Ingrown toenails occur when a toenail grows sideways into the bed of the nail, causing pain, swelling, and possibly infection.
Causes
Bacterial infections
Improper nail cutting such as cutting it too short or not straight across
Trauma to the toe, such as stubbing, which causes the nail to grow back irregularly
Ill-fitting shoes that bunch the toes too close together
Genetic predisposition
Prevention
Because ingrown toenails are not something found outside of shoe-wearing cultures, going barefoot as often as possible will decrease the likeliness of developing ingrown toenails. Wearing proper fitting shoes and using proper cutting techniques will also help decrease your risk of developing ingrown toenails.
Treatment
Ingrown toenails are a very treatable foot condition. In minor cases, soaking the affected area in salt or antibacterial soaps will not only help with the ingrown nail itself, but also help prevent any infections from occurring. In more severe cases, surgery is an option. In either case, speaking to your podiatrist about this condition will help you get a better understanding of specific treatment options that are right for you.
If you have any questions please feel free to contact our office located in Gaithersburg, MD . We offer the newest diagnostic and treatment technologies for all your foot and ankle needs.
Read more about Ingrown Toenails
An ingrown toenail is a toenail that grows sideways into the nail bed, causing pain and swelling. Ingrown toenails can worsen and cause drainage, turning into a serious infection.
Several factors affect whether a person is at risk from an ingrown toenail. The many causes include being overweight, diabetes, participating in sports, having a fungal infection of the toe, and cutting your nails too short. Ingrown toenails also have a genetic predisposition, causing some people to be more prone to receive the condition than others. Other causes include improperly fitting shoes and shoes that keep the feet damp.
Ingrown toenails can be preventable with certain measures. For starters, allowing your toe nails to grow slightly longer in length will help prevent them from becoming ingrown. If you have already developed an ingrown toenail, soak the affected toe in hot water. This will alleviate the pain and help prevent an infection from forming. Antibiotic soap or Epsom salts may be added to further help the relieving process and avoid infection. Placing cotton beneath the affected area is also suggested, as this may help the toenail grow upwards and not into the nail bed. Swelling and redness can be reduced by resting with your feet elevated.
A podiatrist should be seen if the pain becomes so serious that it prevents you from doing your everyday activities. If a red streak running up your leg appears or if you suspect your infection has spread, contact a podiatrist immediately. Fast treatments can be undertaken to lessen your pain and have you walking comfortably.
An ingrown toenail can be easily treated with a Band-Aid. Simply wrap the affected toe with a Band-Aid to prevent infection and keep the nail from growing out at a painful angle.
In more serious cases, your podiatrist may decide to make a small incision to remove a portion of your toenail. To prevent the nail from growing back, medication will be placed directly into the nail bed. This procedure would be performed under local anesthesia and is a faster method to alleviate discomfort from an ingrown toenail. Post-procedure directions will have you stay off the affected foot for a day. Afterwards, normal activities can be resumed.
Janet Funk , an associate professor of medicine at University of Arizona, and her research team have studied the South Asian spice turmeric to determine its usefulness in treating rheumatoid arthritis. For centuries, the spice has been used to treat many ailments. Traditionally, tumeric has been traditionally known for its anti-inflammatory benefits. Rheumatoid arthritis flare ups typically causes the joints to become inflamed. The clinical trial will involve 45 people who will take dietary supplements for a month to determine the safety of the remedy.
Because RA affects more than just your joints, including the joints in your feet and ankles, it is important to seek early diagnosis from your podiatrist if you feel like the pain in your feet might be caused by RA. For more information, consult with Dr. Jon M. Sherman of Kentlands Foot & Ankle Center . Our doctor will assist you with all of your podiatric concerns.
What Is Rheumatoid Arthritis?
Rheumatoid Arthritis (RA) is an autoimmune disorder in which the body's own immune system attacks the membranes surrounding the joints. Inflammation of the lining and eventually the destruction of the joint's cartilage and bone occur, causing severe pain and immobility.
Rheumatoid Arthritis of the Feet
Although RA usually attacks multiple bones and joints throughout the entire body, almost 90 percent of cases result in pain in the foot or ankle area.
Symptoms
– Swelling & pain in the feet
– Stiffness in the feet
– Pain on the ball or sole of feet
– Joint shift and deformation
Diagnosis
Quick diagnosis of RA in the feet is important so that the podiatrist can treat the area effectively. Your doctor will ask you about your medical history, occupation, and lifestyle to determine the origin of the condition. Rheumatoid Factor tests help to determine if someone is affected by the disease.
If you have any questions please feel free to contact our office located in Gaithersburg, MD . We offer the newest diagnostic and treatment technologies for all your foot and ankle needs.
Read more on Rheumatoid Arthritis
Although rheumatoid arthritis attacks multiple bones and joints throughout the entire body, ninety percent of people who actually develop this condition usually do so in the foot or ankle area. Those who develop this kind of arthritis in the feet usually develop symptoms around the toes and forefeet first, before anywhere else. Rheumatoid arthritis appears to have a genetic component. If it runs in the family, then you will be more likely to develop it as well.
Rheumatoid arthritis is an autoimmune disorder in which the body's own immune system attacks the lining of the membranes surrounding the joints. This causes inflammation of the membrane lining, and the gradual destruction of the joint's cartilage and even bone.
Some of the most common symptoms that are associated with RA include pain and swelling of the feet. Stiffness in the feet is also another common symptom that people experience. Those who have RA in the feet usually feel the pain in the ball or sole of their feet. This can get to be very painful at times. A person's joints can even shift and become deformed after a period of time.
In order to properly diagnose RA in the feet it is usually necessary for a doctor or podiatrist to evaluate the area. Your doctor will also question you about your medical history, occupation, etc., to determine whether anything in your lifestyle may have triggered the condition. There are a number of tests that may be performed to help diagnose RA, such as a rheumatoid factor test. There is, however, no one single test that will tell you for sure if you have RA. There are different X-rays that can be taken as well to determine if a person has RA in their feet.
There is a range of treatment options for rheumatoid arthritis. Treatment of RA is usually a lifelong process that includes a variety of methods of treatment and therapy. Your doctor can prescribe special shoes that should help with arch support as well as heel support. A physical therapist can help those with this condition learn exercises which will keep their joints flexible. Surgery may be needed to correct some of the issues with the feet, such as bunions, and hammertoes. Fusion is usually the most successful surgical option for rheumatoid arthritis. However, people need to keep in mind that there are some risks associated with these surgeries.
Blisters are a common ailment of people who wear shoes that are either too tight or rub against the feet in an uncomfortable way. Knowing the basics of blisters is important for understanding how they are formed and what treatments should be used for them.
A blister on the foot, or any other part of the body, is a small pocket that is filled with fluid. It usually forms on the upper layer of the skin because these layers are loose enough to allow a blister to form. The most common fluid in a blister is just a clear, watery-like fluid that usually isn't cause for concern. However, blisters can fill up with blood if they are deep enough and pus if they have become infected with bacteria.
Blisters almost always form on the feet due to shoes rubbing up against the foot, where the friction causes blisters. These can occur after you have walked for a long period of time or when your shoes do not fit you properly. Your feet are also more prone to blisters if they are moist, so keeping them dry and clean is one preventative step you can take.
Preventing infection should be the number one concern when treating blisters, as well as relieving the pain they can cause. Using a bandage to cover up the blister will help it heal and prevent bacteria from entering it. New skin will form under the blister and eventually cause it to pop. Y ou can also take a sterilized pin and try to pop it yourself.
If the blister is filled with pus or blood, seeking treatment from a doctor is ideal. Antibiotics may need to be taken in order to completely eliminate the bacteria inside the blister. See a doctor to have an antibiotic prescribed.
The best way to treat blisters is to prevent them all together. Keeping your feet dry and making sure that your shoes fit properly are just two of the steps you can take to prevent blisters. Shoes that are too tight or shoes that are too loose and allow your feet to slide in them will cause blisters. Applying a bandage to an area where you think a blister is about to form is another way you can prevent them.
Although blisters can be annoying, especially on the feet, there are many different options to help treat them. Let your blisters get some air and refrain from popping the outer layer of skin. Use antibacterial cream, especially if you plan on draining your blister. Clean thoroughly to prevent infection. Use bandages as needed to protect your blister and let the skin heal. Keeping your feet elevated helps relieve inflammation on your blister, and also keep your blister clean. Blisters can also be treated with a saline solution or moisturizer to help reduce inflammation.
Blisters are prone to making everyday activities extremely uncomfortable. If you have any concerns about your feet or ankles, contact Dr. Jon M. Sherman of Kentlands Foot & Ankle Center . Our doctor will treat your foot and ankle needs.
Foot blisters develop as a result of constantly wearing tight or ill-fitting footwear. This happens due to the constant rubbing from the shoe, which can often lead to pain.
What are Foot Blisters?
A foot blister is a small fluid-filled pocket that forms on the upper-most layer of the skin. Blisters are filled with clear fluid and can lead to blood drainage or pus if the area becomes infected.
How do Blisters Form?
Blisters on the feet are often the result of constant friction of skin and material, usually by shoe rubbing. Walking in sandals, boots, or shoes that don't fit properly for long periods of time can result in a blister. Having consistent foot moisture and humidity can easily lead to blister formation.
Prevention & Treatment
It is important to properly care for the affected area in order to prevent infection and ease the pain. Do not lance the blister and use a Band-Aid to provide pain relief. Also, be sure to keep your feet dry and wear proper fitting shoes. If you see blood or pus in a blister, seek assistance from a podiatrist.
If you have any questions please feel free to contact our office located in Gaithersburg, MD . We offer the newest diagnostic and treatment technologies for all your foot and ankle needs.
Read more about blisters on the feet.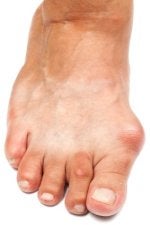 There are many reasons as to why bunions may develop. Bunions are not only a hereditary problem, but can also be caused by an imbalance of muscles in the foot or improper foot support. The bony protuberance on your foot can result from an uneven pronation, the outward rolling of your foot, or uneven supination, the inward rolling of the foot. While there is no cure for bunions other than surgery, there are many different ways for you to prevent your bunions from growing. Mensjournal.com offers guides for different stretches and exercises that strengthen your muscles and improve your balance.
Bunion surgery usually occurs after non-surgical methods have proved to be ineffective. If you have any concerns about your feet or ankles, contact Dr. Jon M. Sherman of Kentlands Foot & Ankle Center . Our doctor will treat your foot and ankle needs.
What is a Bunion?
A bunion is formed of swollen tissue or an enlargement of boney growth, usually located at the base joint of the toe that connects to the foot. The swelling occurs by the bones in the big toe shifting inward, which impacts the other toes of the foot. This causes the area around the base of the big toe to become inflamed and painful.
Why do Bunions Form?
Genetics – susceptibility to bunions are often hereditary
Stress on the feet – poorly fitted and uncomfortable footwear that places stress on feet, such as heels, can cause bunions to form
How are Bunions Diagnosed?
Doctors often perform two tests – blood tests and x-rays – when trying to diagnose bunions, especially in the early stages of development. Blood tests help determine if the foot pain is being caused by something else, such as arthritis, while x-rays provide a clear picture of your bone structure to your doctor.
How are Bunions Treated?
Refrain from wearing heels or similar shoes that cause discomfort
Select wider shoes that can provide more comfort and reduce pain
Anti-inflammatory and pain management drugs
Orthotics or foot inserts
Surgery
If you have any questions please feel free to contact our office located in Gaithersburg, MD . We offer the newest diagnostic and treatment technologies for all your foot and ankle needs.
A bunion is an enlargement of the base joint of the toe that connects to the foot, often formed from a bony growth or a patch of swollen tissues. It is caused by the shifting of the big toe bone inward towards the other toes. This shift can cause a serious amount of pain and discomfort. The area around the big toe can become inflamed, red, and painful.
Bunions are most commonly formed in people who are already genetically predisposed to them or other kinds of bone displacements. However, even if you do not have a history of this in your family, you can still develop bunions if you are wearing improperly fitting shoes. This can happen as you try to cram your feet into high heels, or by running or walking in a way that causes too much stress on the feet. High heels are another major culprit in the formation of bunions. Not only do they push the big toe inward, but your body weight and center of gravity is shifted towards the edge of your feet and your toes, which can cause bone displacement.
Bunions are quickly and easily diagnosed by podiatrists. However, because of their nature, they can appear similar to arthritic conditions or gout. A blood test is sometimes required to fully diagnose a bunion. A full radiological or x-ray exam could also be done by a podiatrist to examine the bone structure of your feet. One thing that is looked for specifically is an enlargement of that base joint or evidence of the big toe bone being pushed inward.
One of the first things to do if you have bunions is to get a larger, wider shoe that can remove pressure from your toes. This usually means that high heels should be eliminated from use for a period of time to allow the bunion to heel. Eliminating the pressure placed on a bunion is often enough to eliminate the pain involved with them. H owever, pain can persist in some instances and anti-inflammatory drugs may be prescribed. If the pain is too severe, steroid injections near the bunion or even surgery may be required. Orthotics for shoes may also be prescribed which can alleviate the pain of bunions by removing pressure from them. However, these methods simply stop the pain of bunions but do not correct the problem at its source.
As previously mentioned, surgery may be an option to completely eliminate your bunions. Surgery is done to reposition the toe bones so that they no longer face inward. This can be done by removing a section of bone or by rearranging the ligaments and tendons in the toe to help them align properly. Even after the surgery, it may be necessary to wear protective shoes for a while to ensure that the bunions do not return.
Archives
2017
2016
2015
2014