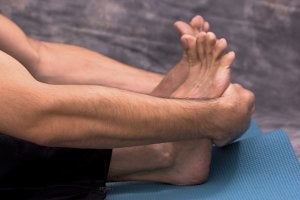 Maintaining a healthy diet and exercising can be a good way to keep your diabetes in check. However, there are some things to keep in mind and on hand if you do decide to workout. First, it is recommended to see a podiatrist to see if exercising is right for you. That being said, there are a few things that are helpful to have on hand while exercising. A blood glucose meter is a great way to check your blood sugar level before you exercise. Blood glucose tablets can help correct low blood sugar levels and ensure you are in a good state. If you do feel shaky or light-headed, it is important to relax and stop exercising. Having some snacks with you to help prevent low blood sugar is also recommended. It is important to stay hydrated while working out, especially for diabetics, because dehydration can cause high blood glucose levels. Finally, wearing a good pair of shoes is an important step in preventing foot ulcers and keeping your feet supported. Podiatrists can help recommend shoes based on your foot type or provide orthotics. Diabetes can be a difficult condition to live with; however, exercising while taking proper safety measures can be a great way to keep it in check.

Diabetic foot care is important in preventing foot ailments such as ulcers. If you are suffering from diabetes or have any other concerns about your feet, contact Dr. Jon M. Sherman of Kentlands Foot & Ankle Center . Our doctor can provide the care you need to keep you pain-free and on your feet.

Diabetic Foot Care

Diabetes affects millions of people every year. Diabetes can damage blood vessels in many parts of the body, including the feet. Because of this, taking care of your feet is essential if you have diabetes, and having a podiatrist help monitor your foot health is highly recommended.

The Importance of Caring for Your Feet
Routinely inspect your feet for bruises or sores.
Wear socks that fit your feet comfortably.
Wear comfortable shoes that provide adequate support.
Patients with diabetes should have their doctor monitor their blood levels because blood sugar levels play such a huge role in diabetic care. Monitoring these levels on a regular basis is highly advised.
It is always best to inform your healthcare professional of any concerns you may have regarding your feet, especially for diabetic patients. Early treatment and routine foot examinations are keys to maintaining proper health, especially because severe complications can arise if proper treatment is not applied.
If you have any questions please feel free to contact our office located in Gaithersburg, MD . We offer the newest diagnostic and treatment technologies for all your foot and ankle needs.
Read more about Diabetic Foot Care
Millions of people are affected by diabetes each year. Diabetes damages blood vessels in all parts of the body, especially the feet. The legs and feet may develop slow blood flow, which causes neuropathy, or nerve damage. Once a diabetic patient develops neuropathy, it is important that the feet are well taken care of. Otherwise, the lower limbs may have to be amputated. This only happens in drastic cases, but it shows how seriously diabetic foot care should be taken.

It is very important to always wash and dry the feet thoroughly, especially in between the toes, if you're a diabetic. Secondly, examining your feet and toes for redness or sores must be done, even if you do not feel pain. You may also want to examine your feet from the bottom. Try to avoid wearing colored socks to prevent infections that may occur from the dye. Well-fitting socks are also highly recommended.

A diabetic's physician should always monitor their blood levels to test how well blood sugars are being maintained. In addition to giving advice about everyday eating habits and foot care, a physician may prescribe medicine to help with the diabetic patient's neuropathy. It is also advised to see a podiatrist if experiencing any feet conditions. Toenails may also need to be taken care of by a podiatrist. This prevents patients from cutting too deeply around their cuticles, which can lead to infection.

A person can take care of their feet at home by following the instructions of their physician. Using creams on one's feet is also an effective way to heal dryness. Proceed with caution when using tools to remove calluses, as severe diabetics may not be able to feel pain on their feet. If any complications arise do not hesitate to contact a podiatrist.

On a daily basis, diabetic feet must be checked. If you are ever concerned about something, contact your health care professional. You never want to wait until a wound becomes too severe to treat. If left untreated, gangrene may develop. Gangrene is a serious infection that can lead to sepsis or amputation. It is also important for diabetics to be on the lookout for ulcers. Ulcers are sores that develop from tissue loss on the skin. They can be quite painful and require intensive treatment. Early treatment and everyday inspection are imperative to staying healthy.
Stress fractures are small breaks in the bone that are caused by repetitive stress. They typically occur due to overuse, forcing the bones of the foot or ankle to continually absorb the full impact of each step taken. Stress fractures can also be caused by abnormal foot structure, osteoporosis, bone deformities, or wearing improper footwear during exercise.

Stress fractures are common for individuals whose daily activities cause high levels of impact on their feet and ankles. Those who run, play tennis or basketball, or practice gymnastics tend to experience these fractures more frequently. Anyone is susceptible to this problem, though. Individuals who are normally sedentary and suddenly begin an intense, high impact workout may sustain stress fractures. This is because their muscles are not yet strong enough to handle and cushion the intensity of their activity. Osteoporosis may also cause someone to get stress fractures, because the disease weakens an afflicted person's bones and makes it easier for them to break down.

Pain from stress fractures typically occurs in the general area of the fracture. Pain can also manifest as "pinpoint pain" or pain that is felt when the site of the injury is touched, and can be accompanied by swelling. It may occur during or after activity, and it may disappear while resting and return when standing or moving. Engaging in any kind of activity, high impact or otherwise, will aggravate the pain. If the intensity of the activity increases before the stress fracture has properly healed, it can cause a full fracture.

Treatment can vary depending on the individual and the degree of injury. The primary way to treat a stress fracture is to rest the hurt foot. Some fractures will heal quickly with only a little bit of rest, while others may require a long rest period and the use of crutches, immobilization, or physical therapy. Under certain circumstances, surgery may be required to install support pins around the fracture to assist in healing.

If you are undergoing a new exercise regimen in running or some other kind of high impact activity, set incremental goals on a weekly basis so you can build up muscle strength. Make sure to wear supportive shoes to better protect you feet.

If you begin to experience any symptoms of stress fractures, you should stop exercising and rest. If the symptoms persist, consult with your podiatrist. Remembering these tips can help you prevent stress fractures to your foot and ankle, and allow you to continue living normally.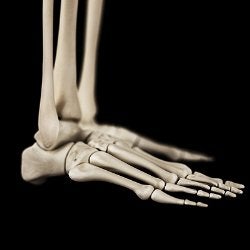 Stress fractures are small hairline fractures in the bone that most often occur from overuse. When the muscles in the body become fatigued, they become unable to handle repeated shock to the area. This shock instead transfers to the bone, which can crack. Most often, stress fractures occur in areas of the lower body like the feet and legs. The most common symptom of a stress fracture is pain in the area. If you are experiencing pain in the foot and ankle and think you may have a stress fracture, it is recommended to see a podiatrist. Rest is often the number one method in helping a stress fracture heal. Braces, pain medication, and ice may also be recommended. To prevent stress fractures, it is advised to start any new athletic activity slowly, gradually work your way up, and stop if you feel pain or have been pushing yourself with little rest.

Activities in which too much pressure is placed on the feet can cause stress fractures. If you have any concerns about your feet contact Dr. Jon M. Sherman of Kentlands Foot & Ankle Center . Our doctor will treat your foot and ankle needs.

Dealing with Stress Fractures of the Foot and Ankle

The Stress Fractures occur on the foot and ankle when muscles in these areas weaken from too much or too little use. Then the feet and ankles lose support when walking or running from the impact of the ground. Since there is no protection the bones receive the full impact of each step. The stress on the feet causes cracks to form in the bones, thus called stress fractures.

What are Stress Fractures?

Stress fractures occur frequently in individuals whose daily activities cause great impact on the feet and ankles. Stress factors are most common among:
Runners
People affected with Osteoporosis
Play tennis or basketball
Gymnastics
High impact workouts
Symptoms
Pain from the fractures occur in the area of the fractures, and can be constant or intermittent. It will often cause sharp or dull pain with swelling and tenderness. Engaging in any kind of activity that involves in high impact will aggravate pain.
If you have any questions please feel free to contact our office located in Gaithersburg, MD . We offer the newest diagnostic and treatment technologies for all your foot and ankle needs.
Read more about Stress Fractures of the Foot and Ankle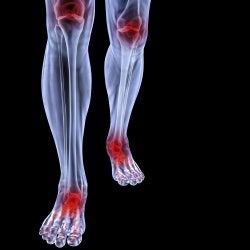 A recent study published in the Arthritis Care and Research journal found that those who are obese and have rheumatoid arthritis may benefit greatly from bariatric, or weight-loss, surgery. While the study needs more research before conclusive results can be firmly established, early results note huge improvements in patients. Out of the 53 patients who have rheumatoid arthritis (RA) and undergone bariatric surgery, only six percent were found to have moderate to severe disease activity 12 months after surgery. Six years after having the surgery, 74 percent of the patients were classified as being in remission. This contrasted with the mere 24 percent achieving remission with RA medications before surgery. While these results are excellent, there are many factors that are unknown; one such factor is whether bariatric surgery is more effective in reducing RA symptoms than diet and exercise. Furthermore, bariatric surgery may potentially lead to osteoporosis. Ultimately, for those who have RA and are obese and considering bariatric surgery, there are many factors that have to be taken into account; it is best to discuss these with a doctor.

Because RA affects more than just your joints, it is important to seek an early diagnosis from your podiatrist if you suspect that the pain in your feet may be caused by RA. For more information, contact Dr. Jon M. Sherman of Kentlands Foot & Ankle Center . Our doctor will assist you with all of your podiatric concerns.

What Is Rheumatoid Arthritis?

Rheumatoid Arthritis (RA) is an autoimmune disorder in which the body's own immune system attacks the membranes surrounding the joints. Inflammation of the lining and eventually the destruction of the joint's cartilage and bone occur, causing severe pain and immobility.

Rheumatoid Arthritis of the Feet

Although RA usually attacks multiple bones and joints throughout the entire body, almost 90 percent of cases result in pain in the foot or ankle area.

Symptoms

– Swelling & pain in the feet
– Stiffness in the feet
– Pain on the ball or sole of feet
– Joint shift and deformation

Diagnosis

Quick diagnosis of RA in the feet is important so that the podiatrist can treat the area effectively. Your doctor will ask you about your medical history, occupation, and lifestyle to determine the origin of the condition. Rheumatoid Factor tests help to determine if someone is affected by the disease.

If you have any questions please feel free to contact our office located in Gaithersburg, MD . We offer the newest diagnostic and treatment technologies for all your foot and ankle needs.

Read more about Rheumatoid Arthritis
Although rheumatoid arthritis attacks multiple bones and joints throughout the entire body, ninety percent of people who actually develop this condition usually do so in the foot or ankle area. Those who develop this kind of arthritis in the feet usually develop symptoms around the toes and forefeet first, before anywhere else. Rheumatoid arthritis appears to have a genetic component. If it runs in the family, then you will be more likely to develop it as well.
Rheumatoid arthritis is an autoimmune disorder in which the body's own immune system attacks the lining of the membranes surrounding the joints. This causes inflammation of the membrane lining, and the gradual destruction of the joint's cartilage and even bone.
Some of the most common symptoms that are associated with RA include pain and swelling of the feet. Stiffness in the feet is also another common symptom that people experience. Those who have RA in the feet usually feel the pain in the ball or sole of their feet. This can get to be very painful at times. A person's joints can even shift and become deformed after a period of time.
In order to properly diagnose RA in the feet it is usually necessary for a doctor or podiatrist to evaluate the area. Your doctor will also question you about your medical history, occupation, etc., to determine whether anything in your lifestyle may have triggered the condition. There are a number of tests that may be performed to help diagnose RA, such as a rheumatoid factor test. There is, however, no one single test that will tell you for sure if you have RA. There are different X-rays that can be taken as well to determine if a person has RA in their feet.
There is a range of treatment options for rheumatoid arthritis. Treatment of RA is usually a lifelong process that includes a variety of methods of treatment and therapy. Your doctor can prescribe special shoes that should help with arch support as well as heel support. A physical therapist can help those with this condition learn exercises which will keep their joints flexible. Surgery may be needed to correct some of the issues with the feet, such as bunions, and hammertoes. Fusion is usually the most successful surgical option for rheumatoid arthritis. However, people need to keep in mind that there are some risks associated with these surgeries.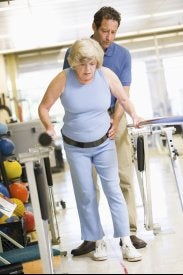 Elderly Americans are at an increased risk of falling than younger Americans. Falls are a leading cause of injury among the elderly; therefore it is important for older persons to know how to prevent them in the first place. Staying active through exercising is an excellent way to stay flexible, mobile, and strong. There are exercise groups all over the country that help older people stay in shape. Make sure to clear any debris from the floor that can make tripping more likely. Lighting is another important aspect in preventing falls in the home. Installing night lights that turn on automatically in and near the bathroom can help prevent falls during late-night bathroom trips. Going to routine check-ups with a doctor is advised as well, and it is important to ask if any prescribed medications can cause drowsiness or lightheadedness. Finally, have one's eyes and hearing regularly checked to help maintain alertness. Falls pose a unique risk to older citizens, but knowing how to prevent them can make all the difference.

Proper foot care is something many older adults forget to consider. If you have any concerns about your feet and ankles, contact Dr. Jon M. Sherman of Kentlands Foot & Ankle Center . Our doctor can provide the care you need to keep you pain-free and on your feet.

The Elderly and their Feet

As we age we start to notice many changes in our body, but the elder population may not notice them right away. Medical conditions may prevent the elderly to take notice of their foot health right away. Poor vision is a lead contributor to not taking action for the elderly.

Common Conditions
Neuropathy – can reduce feeling in the feet, and can hide many life threating medical conditions.
Reduced flexibility – prevents the ability of proper toenail trimming, and foot cleaning. If left untreated, it may lead to further medical issues.
Foot sores – amongst the older population can be serious before they are discovered. Some of the problematic conditions they may face are:
Gouging toenails affecting nearby toe
Shoes that don't fit properly
Pressure sores
Loss of circulation in legs & feet
Edema & swelling of feet and ankles
Susceptible Infections
Diabetes and poor circulation can cause general loss of sensitivity over the years, turning a simple cut into a serious issue.
If you have any questions please feel free to contact our office located in Gaithersburg, MD . We offer the newest diagnostic and treatment technologies for all your foot and ankle needs.
Read more about Elderly and Feet
While proper foot care is important for everybody, senior citizens have the tendency to be more susceptible to certain conditions. The elderly should therefore be well informed about any problems that may arise and about what they can do to properly avoid or treat them.
Some of the most common foot problems seniors are susceptible to include foot ulcers, ingrown toenails, fallen arches, and fungal nails. A foot ulcer is an open sore on the foot and can be a result of diabetes and decreased sensation in the feet. An ingrown toenail is defined as when the nail grows into the side of the toe. Fallen arches are indicated by the instep of the foot collapsing. A fungal nails is a condition that results in deformed and discolored toenails.
In order to avoid these conditions it is recommended that the feet be inspected by the patient on a regular basis. If these inspections are carried out routinely, there is a good likelihood that problems can be identified before they become severe, or can even be avoided altogether. If any abnormality is discovered, it is important that the individual consult a podiatrist for diagnosis and information on treatment options.
Proper foot hygiene is also important. Making sure that you always have clean, dry socks on can be a major deterrent to many different problems including bacterial infections, foot odor, and certain types of fungus. Wet feet are a major cause of many of these problems. If your socks get wet, it is important to change them. Walking around in wet socks may not only lead to various infections, but can irritate the skin and result in a number of various complications. Clean, dry feet are less likely to be affected by fungal and other infections.
As people age, the fat present on your feet begins to deteriorate. The protective nature of this fat keeps the feet healthy by providing a barrier between your bones and the ground. This also aids in giving the skin on the feet a certain amount of elasticity. This is one factor that causes elderly people to develop some serious foot issues. Foot moisturizers can be helpful to avoid certain problems associated with this. However, water-based moisturizers do not work as well for elderly people as they do for the young. Instead, it is more effective to use an emollient instead. An emollient is effective because it binds the water in the foot, keeping it from becoming absorbed too readily which will result in dry skin. Emollients also have a special property called occlusion, which provides a layer of oil on the skin. This layer prevents the foot from drying up and can be very effective in treating dry skin disorders. If you can keep the skin on your feet healthy, this will substantially reduce the number of foot problems you will encounter in old age.
Proper footwear is another way to keep feet healthy. Shoes that fit well and provide proper support help prevent ingrown toenails and fallen arches.
Certain medical conditions such as diabetes or poor blood circulation increase the risk for foot issues. For individuals with any of these conditions it is extremely important to conduct regular foot inspections to make sure that there are no sores or infections present.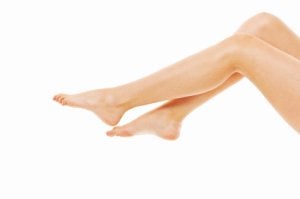 Taking care of your feet is vital to not only the health of your foot, but the health of your entire body. Checking the feet and toes every day for abnormalities or anything that might be cause for concern is important and the first step in foot health. Always ensure that shoes fit properly, provide enough room, and are comfortable enough to wear for long periods of time. Avoid high heels or flip-flops, as they can give way to foot problems; and if possible, consider opting for running shoes for everyday use. It's a good idea to switch between shoes often to allow them to air out. When it comes to cutting your toenails, avoid cutting them too short and make sure to cut straight across. Cutting too short or at a curve can increase the potential for ingrown toenails. If you experience dry skin on your feet, moisturize them regularly with foot cream. It is important to wash your feet daily to both remove odor and help prevent bacterial and fungal infections. Finally, if you have foot pain, consult with your podiatrist for a proper diagnosis and treatment.
Every day foot care is very important to prevent infection and other foot ailments. If you need your feet checked contact Dr. Jon M. Sherman of Kentlands Foot & Ankle Center . Our doctor can provide the care you need to keep you pain-free and on your feet.
Every Day Foot Care
Often, people take care of their bodies, face and hair more so than they do for their feet. But the feet are a very important aspect of our bodies, and one that we should pay more attention to. After all, without our feet, we would not be able to perform most daily tasks. It is best to check your feet regularly to make sure there are no new bruises or cuts that you may not have noticed before, for example.
For dry feet, moisturizer can easily be a remedy and can be applied as often as necessary to the affected areas. Wearing shoes that fit well can also help you maintain good foot health, as well as making it easier to walk and do daily activities without the stress or pain of ill-fitting shoes, high heels, or even flip flops.
Also, wearing clean socks with closed shoes is important to ensure that sweat and bacteria do not accumulate within the shoe. Clean socks help to prevent athlete's foot, fungi problems, bad odors, and can absorb sweat.
If you have any questions please feel free to contact our office located in Gaithersburg, MD . We offer the newest diagnostic and treatment technologies for all your foot and ankle needs.
Read more about Everyday Foot Care
Our feet are important in our everyday lives. The problem is that we tend to neglect them. When this becomes a habit, it can cause significant trouble. Ignoring foot problems can mean pain, limited mobility, and expensive doctor's visits. On the other hand, if feet are cared for and looked after regularly, they will perform without pain or complication.
Routine hygiene is the most basic way to care for the feet. Wash and dry them thoroughly daily. Remember to get between the toes and keep the toenails trimmed and short. If the feet feel dry or there are signs of dryness or cracking, use a moisturizer designed for the feet.
When using moisturizer on the feet, try to avoid applying between the toes. If cream or lotion sits too long, they can cause fungal and bacterial growth. When moisturizer is used between the toes, it can also cause the skin to soften too much.
Shoes are also an important aspect of foot care. When one is picking out shoes, make sure they are the correct size. Shoes need to be snug, but not too tight. On the other hand, if shoes are too loose they can cause foot problems as well. It is highly recommended that shopping for new shoes be done later in the day. The reason for this is that the feet will have settled and swelled to their full size by then. To keep your feet at their most healthy, avoid wearing high heels or flip flops too often. Instead, choose shoes that are good for your feet. Good shoes pad the soles of your feet and support the arches and ankles.
Socks should also be worn daily with closed-toe shoes. They may feel hot during the summer months, but they absorb sweat and moisture off the feet. Without socks, the build-up of sweat in a closed-toe shoe can cause fungal problems and athlete's foot.
The best thing to remember in every day foot care is that shoes do make a difference. If you spend a lot of time on your feet, make sure that your shoes show no signs of wear. Shoes should offer ample support for the arches and the overall foot. Additionally, try to make foot cleaning and maintenance a daily habit. If you keep these things in mind, your feet will stay healthy and safe.
Archives
2017
2016
2015
2014