Athlete's foot is an extremely contagious infection caused by a fungus that results in itching, burning, dry, and flaking feet. The fungus that causes athlete's foot is known as tinea pedis and thrives in moist, dark areas such as shower floors, gyms, socks and shoes, commons areas, public changing areas, bathrooms, dormitory style houses, locker rooms, and public swimming pools. Athlete's foot is difficult to treat as well because of the highly contagious and recurrent nature of the fungus.
Tinea is the same fungus that causes ringworm, and is spread by direct contact with an infected body part, contaminated clothing, or by touching other objects and body parts that have been exposed to the fungus. Because the feet are an ideal place for tinea to grow and spread, this is the most commonly affected area. It is, however, known to grow in other places. The term athlete's foot describes tinea that grows strictly on the feet.
The most commonly infected body parts are the hands, groin, and scalp, as well as the feet. Around 70% of the population suffer from tinea infections at some point in their lives, however not all of these cases are athlete's foot. Just like any other ailment, some people are more likely to get it than others, such as people with a history of tinea infections or other skin infections, both recurring and non-recurring ones. The extent to which a person experiences regrowth and recurrent tinea infections varies from person to person.
Sometimes people will not even know that they are infected with tinea or that they have athlete's foot because of a lack of symptoms. However, most experience mild to moderate flaking, itching, redness, and burning. However, some of the more severe symptoms include cracking and bleeding skin, intense itching and burning, pain while walking or standing, and even blistering.
Because of the recurring nature of the tinea fungus and the athlete's foot it causes, the best way to treat this condition is with prevention. You can take some preventative measures such as wearing flip flops or sandals in locker rooms and public showers to reduce contact with the floor. It also helps to keep clean, dry feet while allowing them to breathe. Using powders to keep your feet dry is a good idea, as well as keeping your feet exposed to light and cool air, to prevent the growth of tinea. If you do happen to get athlete's foot, opt for using topical medicated creams, ointments or sprays. These treatments help eliminate and prevent it from coming back.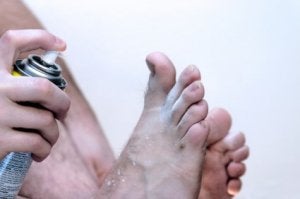 For those who may have embarrassing foot problems such as Athlete's foot , good news: there are natural treatments that can be used to combat the stinky fungal infection. Tea tree oil can be added to a foot soak to help kill fungus. Himalayan Crystal salt, mixed with apple cider vinegar, can be used in warm water to treat Athlete's foot. Lemon juice is also great, as it has a natural acidic property that helps to exfoliate dead skin cells from your feet. Borax can also be used as a disinfectant spray to help kill bacteria and foot odor in the insides of your shoes.
Athlete's foot is an inconvenient condition that can be easily treated if done properly. If you have any concerns about your feet and ankles, contact Dr. Jon M. Sherman of Kentlands Foot & Ankle Center . Our doctor will treat your foot and ankle needs.
Athlete's Foot: The Sole Story
Athlete's foot, also known as tinea pedis, can be an extremely contagious foot infection. It is commonly contracted in public changing areas and bathrooms, dormitory style living quarters, around locker rooms and public swimming pools, or anywhere your feet often come into contact with other people.
Solutions to Combat Athlete's Foot
Hydrate your feet by using lotion
Exfoliate
Buff off nails
Use of anti-fungal products
Examine your feet and visit your doctor if any suspicious blisters or cuts develop
Athlete's foot can cause many irritating symptoms such as dry and flaking skin, itching, and redness. Some more severe symptoms can include bleeding and cracked skin, intense itching and burning and even pain when walking. In the worst cases, athlete's foot can cause blistering as well. Speak to your podiatrist for a better understanding of the different causes of athlete's foot, as well as helping you figure out which treatment options are best for you.
If you have any questions please feel free to contact our office located in Gaithersburg, MD . We offer the newest diagnostic and treatment technologies for all your foot and ankle needs.
Read more about Athlete's foot
For hundreds of years, women have been wearing various kinds of high heels for aesthetic reasons. Women who wear high heels appear to be taller and have longer and thinner legs, and the wearer's gait and posture changes. Though high heels have had an association with femininity and have kept them popular over the years, there are definite health problems caused by wearing them too frequently.
The motion of the ankle joints is limited when heels are worn. The ankle joint is very important to the body when it comes to walking. Because of their location, these joints have a great deal of weight put on them. Thus, it is very important to keep them as healthy as possible. The Achilles tendon is the main tendon in the ankle. Wearing high heels too often, studies have shown, can cause the calf muscle and Achilles tendon to shorten and stiffen. This can cause problems when shoes without heels are worn.
By putting a great deal of pressure on the ball of the foot and by forcing the toes into a small toe box, high heels can cause or may worsen many foot problems. These include corns, hammertoe, bunions, Morton's neuroma and plantar fasciitis.
Not only does wearing high heels regularly have negative effects on the feet, the rest of the body can suffer as well. The knees, one of the most important joints in the entire body, can be affected by wearing high heels. High heels can cause the knees to stay bent all the time. Also, it can cause them to bend slightly inward as well. Doctors believe that women can suffer from osteoarthritis later in life because of constantly walking like in high heels. By limiting the natural motion of the foot during walking, high heels also cause an increased in stress on the knees.
Similarly, high heels can cause the back to go out of alignment. If high heels are worn constantly, the spine's ability to absorb shock can cause continued back pain. They can compress the vertebrae of the lower back, and can overuse the back muscles.
However, this is not to say that high heels can never be worn. If worn occasionally and not often, they will not cause serious problems. They should not be worn every day. It's important to wear them modestly to avoid the long-term physical health problems of the feet, knees, ankles, and back mentioned above.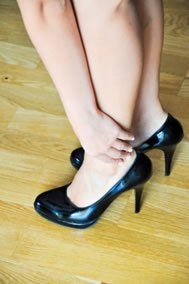 One of the most common causes of foot pain for women stems from the frequent wearing of high heels . Though they may be stylish, heels can contribute to all sorts of problems. Due to the angle that the foot is forced to maintain, circulation can be slowed or even cut off. This can lead to leg muscle issues, a stiffened Achilles tendon, and resulting spasms and pain. If you are suffering any kind of pain from wearing high heels, consult a doctor. But in the meantime, try to limit the amount of time that you wear them. If you have to wear heels for work, take them off as soon as you get home. Stretching may also help some the symptoms, but reducing the amount of walking around you do in high heels is the best way to prevent the pain.
High heels have a history of causing foot and ankle problems. If you have any concerns about your feet or ankles, contact Dr. Jon M. Sherman of Kentlands Foot & Ankle Center . Our doctor can provide the care you need to keep you pain-free and on your feet.
Effects of High Heels on the Feet
High heels are popular shoes among women because their style and societal appeal. Despite this, they can still cause many health problems if worn too frequently.
What parts my body will be affected by high heels?
Ankle Joints
Achilles Tendon – may shorten and stiffen with prolonged wear
Balls of the Feet
Knees – heels cause the knees to bend constantly, creating stress on them
Back – they decrease the spine's ability to absorb shock, which may lead to back pain. Also, the vertebrae of the lower back may compress.
What kinds of foot problems can develop from wearing high heels?
Corns
Calluses
Hammertoe
Bunions
Morton's Neuroma
Plantar Fasciitis
How can I still wear high heels and maintain foot health?
If you want to wear high heeled shoes, make sure that you are not wearing them every day, as this will help prevent long term physical problems. Try wearing thicker heels as opposed to stilettos to distribute weight more evenly across the feet. Always make sure you are wearing the proper shoes for the right occasion, such as sneakers for exercising. If you walk to work, try carrying your heels with you and changing into them once you arrive at work. Adding inserts to your heels can help cushion your feet and absorb shock. Full foot inserts or metatarsal pads are available.
If you have any questions please feel free to contact our office located in Gaithersburg, MD . We offer the newest diagnostic and treatment technologies for all your foot and ankle needs.
Read more about the effects of high heels.
Corns are thickened areas on the skin's surface, to the point of being irritating and sometimes painful. Commonly found on the feet, corns are circular or cone-shaped. They develop where there are areas of pressure or friction, such as on the little toe when it rubs up against shoes, or on the ball of your foot.
Corns are often confused with a callus, but there is a difference between them. Corns can be raised bumps that are painful to the touch. They consist of a rough, thick area of skin that may be dry or waxy. Corns tend to be surrounded by skin that is inflamed, and are usually much smaller than calluses.
Removing the dead skin that has built up is the key in treating corns. Salicylic acid medication is most common in accomplishing this. The acid works by dissolving keratin, which is the protein that makes up the majority of corns. You can purchase salicylic acid over-the-counter in products such as wart removers. It comes in a variety of forms such as medicated pads, drops, or creams. However, people who are diabetic should not use salicylic acid, but should instead consult their doctor immediately.
According to the product directions, applying the medication directly onto the corn will treat it. The top layer of the corn will begin to turn white after use. When that occurs, the layers of skin can then be peeled away, making the corn smaller. Shaving off corns with razors or other pedicure equipment is never a good idea. This can lead to infection. If your corn gets infected, and is not treated immediately, a visit to the doctor will be necessary.
Another way to treat corns and help prevent their return is by using orthotic inserts, fitted by a podiatrist. Inserts fit right into your shoes and adjusts the way your foot fits into your shoes. This fixes the way you walk. This will lower your chances of getting corns, and eliminate current corns by reducing rubbing from friction.
Surgery is rarely used to treat corns, but does occur on occasion. Surgery actually deals with the underlying issue that causes corns. During surgery, the bone is shaved and any abnormalities are corrected, thus reducing the amount of friction that occurs during walking.
To prevent corns, the first step is reducing friction. Always wear shoes that fit well and don't rub your feet. Pads can be purchased if you notice rubbing developing. These pads can be purchased over-the-counter, and can be simply placed on the irritated area. Wearing cushioned insoles in your shoes can always reduce the friction, and making sure to wear well-fitting shoes. This will ensure that your foot is not being squeezed awkwardly, and prevent corns from forming in the first place.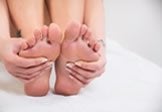 Among foot conditions, corns and calluses are often seen as some of the more harmless concerns. Regardless, if a corn or callus does become troublesome, there are methods available for removal. Because calluses are essentially small areas of thick, hardened skin, softening calluses can help aid in their removal. Soaking the feet in warm water and avoiding using harsh soaps while washing can help maintain softness of the skin. Hard areas can also be buffed away using a pumice stone. If you are suffering from corns and calluses and seek ways to remove them, consult with your podiatrist.
If you have any concerns regarding your feet and ankles, contact Dr. Jon M. Sherman of Kentlands Foot & Ankle Center . Our doctor will treat your foot and ankle needs.
Corns: What are they? And how do you get rid of them?
Corns can be described as areas of the skin that have thickened to the point of becoming painful or irritating. They are often layers and layers of the skin that have become dry and rough, and are normally smaller than calluses.
Ways to Prevent Corns
There are many ways to get rid of painful corns such as wearing:
– Well-fitting socks
– Comfortable shoes that are not tight around your foot
– Shoes that offer support
Treating Corns
Treatment of corns involves removing the dead skin that has built up in the specific area of the foot. Salicylic acid can help in getting rid of these corns because it dissolves keratin, which is the protein that makes up a good majority of corns. Podiatrists recommend that people with diabetes not use salicylic acid but should consult with their podiatrist regarding the treatment of corns.
If you have any questions please feel free to contact our office located in Gaithersburg, MD . We offer the newest diagnostic and treatment technologies for all your foot and ankle needs.
Read more about Corns on the Feet.
The plantar fascia is a connective tissue in the heel that stretches across the bottom length of your foot. Plantar fasciitis occurs when the connective tissue becomes inflamed, causing heel pain and discomfort during physical activity. Although the condition is completely treatable, traditional methods can take up to a year to start becoming effective.
Plantar fasciitis is caused by a number of everyday activities, so understanding the condition is important for managing and treating it. One of the most common causes of plantar fasciitis is excessive running, especially with improper fitting or non-supportive shoes. Too much exercise can lead to the plantar fascia being overworked and overstretched, which can cause tears in the tissue. Along with improper fitting shoes, pronation, the rolling of the feet inward, is a common cause of plantar fasciitis. If not treated properly, the plantar fascia becomes overstretched and starts to tear, causing inflammation.
Despite the common causes of plantar fasciitis, there are many different treatment options. For less severe cases, conservative home remedies include taking anti-inflammatory drugs to alleviate pain, applying ice packs to the bottom of your foot and heel, slowly stretching and exercising your feet to re-strengthen the tissue, and using orthotic devices are all ways to help manage your plantar fasciitis.
For more severe cases, shockwave therapy has become a common solution for plantar fasciitis. Shockwave therapy can effectively break up the tissue on the bottom of your foot which facilitates healing and regeneration. This fights the chronic pain caused by plantar fasciitis. Even if this doesn't work, surgery is always a final option. Surgery on the tissue itself can be done to permanently correct the issue and stop the inflammation and pain in your heels.
No matter what the case may be, consulting your podiatrist is the first and best step to recovery. Even the slightest amount of heel pain could be the first stage of plantar fasciitis. Untreated symptoms can lead to the tearing and overstretching of tissue. Because the tearing of tissue can be compounded if it remains ignored, it can evolve into a severe case. The solution is early detection and early treatment. Talk to your podiatrist about the possibilities of plantar fasciitis if you're experiencing heel pain.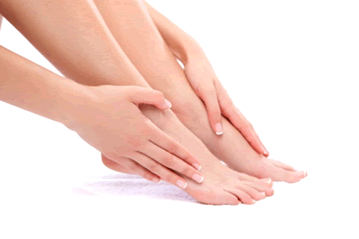 Plantar fasciitis is a foot condition that is often the source of many cases of heel pain. Just as the condition has many different causes, it also has many different treatments. One treatment that may be effective is yoga, which allows for the stretching of the feet. Suggested poses include the downward facing dog and crescent lunge, stretches that can be felt through the calves and heels; and the toes pose, which stretches the feet immediately. To determine the best treatment for your case of plantar fasciitis, first consult with a podiatrist.
Plantar fasciitis can be very painful and inconvenient. If you are experiencing heel pain or symptoms of plantar fasciitis, contact Dr. Jon M. Sherman of Kentlands Foot & Ankle Center . Our doctor will assist you with all of your foot and ankle needs.
What is Plantar Fasciitis?
Plantar fasciitis is the inflammation of the thick band of tissue that runs along the bottom of your foot, known as the plantar fascia, and causes mild to severe heel pain.
What Causes Plantar Fasciitis?
· Excessive running
· Non-supportive shoes
· Overpronation
· Repeated stretching and tearing of the plantar fascia
How Can It Be Treated?
· Conservative measures – anti-inflammatories, ice packs, stretching exercises, physical therapy, orthotic devices
· Shockwave therapy – sound waves are sent to the affected area to facilitate healing and are usually used for chronic cases of plantar fasciitis
· Surgery – usually only used as a last resort when all else fails. The plantar fascia can be surgically detached from the heel
While very treatable, plantar fasciitis is definitely not something that should be ignored. Especially in severe cases, speaking to your doctor right away is highly recommended to avoid complications and severe heel pain. Your podiatrist can work with you to provide the appropriate treatment options tailored to your condition.
If you have any questions please feel free to contact our office located in Gaithersburg, MD . We offer the newest diagnostic and treatment technologies for all your foot and ankle needs.
Read more about Plantar Fasciitis
Millions of people are affected by diabetes each year. Diabetes damages blood vessels in all parts of the body, especially the feet. The legs and feet may develop slow blood flow, which causes neuropathy, or nerve damage. Once a diabetic patient develops neuropathy, it is important that the feet are well taken care of. Otherwise, the lower limbs may have to be amputated. This only happens in drastic cases, but it shows how seriously diabetic foot care should be taken.
It is very important to always wash and dry the feet thoroughly, especially in between the toes, if you're a diabetic. Secondly, examining your feet and toes for redness or sores must be done, even if you do not feel pain. You may also want to examine your feet from the bottom. Try to avoid wearing colored socks to prevent infections that may occur from the dye. Well-fitting socks are also highly recommended.
A diabetic's physician should always monitor their blood levels to test how well blood sugars are being maintained. In addition to giving advice about everyday eating habits and foot care, a physician may prescribe medicine to help with the diabetic patient's neuropathy. It is also advised to see a podiatrist if experiencing any feet conditions. Toenails may also need to be taken care of by a podiatrist. This prevents patients from cutting too deeply around their cuticles, which can lead to infection.
A person can take care of their feet at home by following the instructions of their physician. Using creams on one's feet is also an effective way to heal dryness. Proceed with caution when using tools to remove calluses, as severe diabetics may not be able to feel pain on their feet. If any complications arise do not hesitate to contact a podiatrist.
On a daily basis, diabetic feet must be checked. If you are ever concerned about something, contact your health care professional. You never want to wait until a wound becomes too severe to treat. If left untreated, gangrene may develop. Gangrene is a serious infection that can lead to sepsis or amputation. It is also important for diabetics to be on the lookout for ulcers. Ulcers are sores that develop from tissue loss on the skin. They can be quite painful and require intensive treatment. Early treatment and everyday inspection are imperative to staying healthy.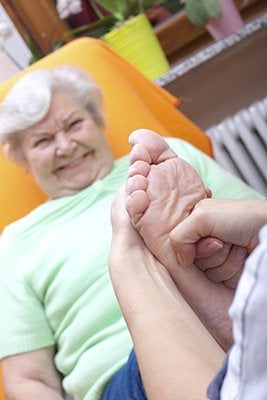 In light of World Diabetes Day at the end of November, podiatrists have been urging their diabetic patients to frequently check their feet for cuts, sores, red spots, and infected toenails. Diabetic foot ailments cause over one million limb amputations globally per year, which is why checking the feet for cuts and abrasions is paramount. Taking the time to regularly check the feet can prevent the exacerbation of the condition.
Diabetic foot care is important in preventing foot ailments such as ulcers. If you are suffering from diabetes or have any other concerns about your feet, contact Dr. Jon M. Sherman of Kentlands Foot & Ankle Center . Our doctor can provide the care you need to keep you pain-free and on your feet.
Diabetic Foot Care
Diabetes affects millions of people every year. Diabetes can damage blood vessels in many parts of the body, including the feet. Because of this, taking care of your feet is essential if you have diabetes, and having a podiatrist help monitor your foot health is highly recommended.
The Importance of Caring for Your Feet
● Routinely inspect your feet for bruises or sores.
● Wear socks that fit your feet comfortably.
● Wear comfortable shoes that provide adequate support.
Patients with diabetes should have their doctor monitor their blood levels because blood sugar levels play such a huge role in diabetic care. Monitoring these levels on a regular basis is highly advised.
It is always best to inform your healthcare professional of any concerns you may have regarding your feet, especially for diabetic patients. Early treatment and routine foot examinations are keys to maintaining proper health, especially because severe complications can arise if proper treatment is not applied.
If you have any questions please feel free to contact our office located in Gaithersburg, MD . We offer the newest diagnostic and treatment technologies for all your foot and ankle needs.
Read more about diabetic foot care
Archives
2017
2016
2015
2014