Affecting about 20-30% of the population, flat feet is a condition in which the foot's arch either drops or never develops. Flat feet is relatively common in babies and small children as a result of the arch not developing. Adults can develop flat feet as a result of injury or pregnancy due to increased elasticity. However, in adults flat feet is usually a permanent condition.
Flat feet can make walking difficult since it places undue stress on the ankles. This stress throws off the general alignment of the legs since flat feet cause the ankles to move inward, causing discomfort. Flat feet can also affect the knees since arthritis is a common condition in that area. Fortunately, in many cases flat feet do not directly cause any pain.
When it comes to runners, there are specific shoes that can help realign the ankles and provide more support while lessening the amount of pronation involved. Running often causes weight shifting very quickly, so it's important to be informed whether or not you are affected by flat feet. Knowledge about flat feet is crucial, especially when it comes to preventing injuries.
To be able to diagnose flat feet, a test commonly used is known as the wet footprint test. In the wet footprint test, the individual places a flat foot on a surface to generate a footprint. If there is no indication of an arch or any indentations, that person could have flat feet. In any case, if there is a possibility of having flat feet, a podiatrist should be consulted.
Once flat foot has been diagnosed, it can be treated by wearing insoles. There are two types of flat feet. The first type is rigid, where the feet appear to have no arch even if the affected person is not standing. The other condition, known as flexible flat feet, occurs when the arch seems to 'go away' when someone is standing but appears while sitting. In the case of flexible flat feet, unless pain is caused by the condition, there is no need for treatment. However, in the case of rigid flat feet or pain involved in flexible flat feet, orthotic insoles and exercises are prescribed to help the arches develop.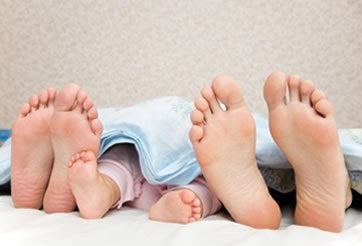 Fifteen years ago, Dipa Karmakar was a flat-footed six-year-old participating in gymnastics when Coach Bishweshwar Nandi decided to take her on. Today the partnership has corrected her flat foot and Karmakar has recently won the bronze medal at the Asian Championships in Japan. "I still remember Dipa coming to see me as a flat-footed kid, which is not good for a gymnast. It affects the spring her in jump," stated coach Nandi. Since the fix, Karmakar has had a variety of successes including becoming the first Indian woman to win a Commonwealth medal at the 2014 Glasgow games on the Vault table.
Most arches will develop in children after a certain age. If you suspect that your child has the condition, speak to Dr. Jon M. Sherman of Kentlands Foot and Ankle Center . Our doctor will answer any of your foot and ankle related questions and attend to all of your podiatric needs.
What are Flat Feet?
Flat feet are a condition in which the arch of the foot is depressed and the sole of the foot is almost completely in contact with the ground. Standing about 20-30% of the population generally has flat feet because their arch never formed during growth.
Conditions & Problems:
Having flat feet makes it difficult to run or walk because of the stress placed on the ankles.
Alignment – The general alignment of your legs can be disrupted, because the ankles move inward which can cause major discomfort.
Knees – if you have complications with your knees, flat feet can be a contributor to arthritis in that area.
Symptoms:
Pain around the heel or arch area
Trouble standing on the tip toe.
Swelling around the inside of the ankle.
Flat look to one or both feet.
Having your shoes feel uneven when worn
Treatment:
If you are experiencing pain and stress on the foot you may weaken the posterior tibial tendon, which runs around the inside of the ankle.
If you have any questions please feel free to contact our office located in Gaithersburg, MD . We offer the newest diagnostic tools and treatments for your foot and ankle needs.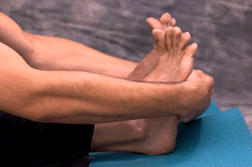 Although exercise is important in maintaining overall health, wearing the proper shoe for each exercise is crucial to maintaining foot health and overall performance. According to Dr. Kade Paterson of the University of Melbourne, wearing the wrong shoe for certain exercises can cause a variety of injuries such as blisters, ingrown toenails, stress fractures, heel pain, etc. A sprinting shoe is made up of completely different components than cross fit, walking, or trail running shoes and wearing the wrong type of shoe will not protect your feet from potential injuries. Additionally, Dr. Paterson notes that many foot problems during exercise stem from wearing a shoe too big or too small. Getting your feet properly measured in addition to wearing properly cushioned socks will reduce injury.
Exercising your feet regularly with the proper foot wear is a great way to prevent injuries. If you have any concerns about your feet contact Dr. Jon M. Sherman of Kentlands Foot and Ankle Center . Our doctor will treat your foot and ankle needs.
Exercise for Your Feet
Exercise for your feet can help you to gain strength, mobility and flexibility in your feet. They say that strengthening your feet can be just as rewarding as strengthening another part of the body. Your feet are very important and often we forget about them in our daily tasks. But it is because of our feet that are we able to get going and do what we need to. For those of us fortunate not to have any foot problems, it is an important gesture to take care of them to ensure its good health in the long run.
Some foot health exercises can include ankle pumps, tip-toeing, toe rise, lifting off the floor doing reps and sets, also flexing the toes and involving the shins may help too. It is best to speak with your doctor regarding how to do these fitness steps and how often is right for you. Everyone's needs and bodies are different and it varies from individual to individual to determine what should be done for you to maintain strength in your feet.
Once you get into a routine of doing regular exercise, you may notice a difference in your feet and how strong they may become.
If you have any questions, please feel free to contact our office located in Gaithersburg, MD . We offer the newest diagnostic tools and technologies to treat your foot and ankle needs.
Read more about exercising your feet.
Whether your feet are over-worked or under-worked, chances are they could benefit from some special attention. Even those who exercise regularly probably do not spend any time strengthening their feet. This can be just as rewarding as strengthening the rest of the body, since the health of your feet affects the health of the rest of the body as well, especially the ankles, legs, and spine.
For those who might not have any idea on how a foot-specific exercise might be conducted, there are several workouts that are fairly easy to perform in the comfort of your home. One of the easiest is the toe rise, also known as the tip-toe. This exercise involves standing on the tip-toes for a count of 15 then resting the feet on the ground. This process should be repeated a minimum of three times a day in order to strengthen the feet.
Toe pick-ups strengthen the feet by working them in a very different way. In this exercise, small items are picked up using the toes in order to strengthen the muscles on the upper part of the feet. Once again three sets should be performed, with the item in question being held for 15 seconds then dropped. Items that may be picked up using the feet include marbles and even stationery, which works wonders for the toes and the surrounding muscles.
Yet another simple workout is the ankle pump. This can be done either upwards or downwards, but for the workout to be most effective both can be incorporated into the routine. As the term suggests, this involves lifting the foot off the floor and flexing the toes either towards the shin or towards the ground. This movement puts the feet and ankles through a large range of motion which works muscles.
Last but not least, feet should be stretched so that the muscles can relax and recuperate. This can be done by placing both feet off the floor and bracing oneself against the wall at a 45 degree angle. This ensures that the feet and ankles are adequately stretched once the workout is complete.
In short, giving the feet a good workout every now and then is important in order to avoid problems such as plantar fasciitis, as well as to warm-up or cool-down after running or vigorous walking. Foot exercises may be followed by a good foot massage which encourages circulation in the feet as well as muscle relaxation.
Our feet are of great importance in our lives. However, they are something we tend to neglect. When this becomes a habit, it can cause significant trouble. Pain, limited mobility, and expensive doctor's visits can occur when foot problems are ignored. If feet are cared for and looked after each day, however, they will perform without pain or complication.
Hygiene is the most basic way to care for your feet. Washing and drying them thoroughly every day is most important. Cleaning between your toes, and keeping your toenails trimmed and short is essential. Using moisturizer is also important if your feet feel dry or appear cracked.
Remember to avoid using moisturizer between your toes. This can cause fungi and bacteria development if cream sits in that area. The skin can also macerate between the toes when moisturizer is used.
Footwear is also an important aspect of keeping your feet healthy. Making sure your shoes are the correct size is key when picking them out. Shoes should not feel too tight, but snug. If a shoe is too loose, they can also cause problems. Shoe shopping is recommended to be done later in the day, because the feet will have settled and swelled to their full size by then. Wearing high-heels or flip-flops too often should be avoided to keep their feet healthiest. Wearing shoes that are good for your feet, have padding on your soles, and support the ankles and arches are most important.
Additionally, socks should be worn when closed-toe shoes are worn. Though they may feel hot during the summer, they are important in absorbing sweat and moisture off the feet. Without socks, the buildup of sweat in a closed-toe shoe can cause fungi and athlete's foot.
The right shoes can make a difference in your everyday foot care. Make sure that your shoes show no signs of wear, and chose shoes that offer support for your arches and overall foot. Make sure cleaning your feet is a part of your daily routine. This way, your feet will stay healthy and safe.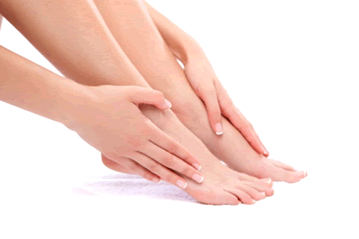 Although sandals may be trendy and convenient during the summer, certain sandals can cause serious problems for feet. With strappy gladiator sandals in popular demand, come an array of potential issues including poor circulation, blisters, swelling, and the worsening of varicose veins. To prevent any foot damage from your sandals remember to give your feet a break from high heeled strappy sandals and to opt for a more comfortable shoe on some days. Periodically sit down and elevate the legs to promote blood circulation, and only wear shoes that are the right fit for your feet .
Sandals are great for the summer, but it is important that you provide yourself with everyday foot care to keep any eye on any potential problems. For more information about everyday foot care, consult with Dr. John M. Sherman of Kentlands Foot and Ankle Center . Our doctor will provide you with the foot- and ankle information you seek.
Every Day Foot Care
Often, people take care of their bodies, face and hair more so than they do for their feet. But the feet are a very important aspect of our bodies, and one that we should pay more attention to. After all, without our feet, we would not be able to perform most daily tasks. It is best to check your feet regularly to make sure there are no new bruises or cuts that you may not have noticed before, for example.
For dry feet, moisturizer can easily be a remedy and can be applied as often as necessary to the affected areas. Wearing shoes that fit well can also help you maintain good foot health, as well as making it easier to walk and do daily activities without the stress or pain of ill-fitting shoes, high heels, or even flip flops.
Also, wearing clean socks with closed shoes is important to ensure that sweat and bacteria do not accumulate within the shoe. Clean socks help to prevent athlete's foot, fungi problems, bad odors, and can absorb sweat.
If you have any questions, please feel free to contact our office located in Gaithersburg, MD . We offer the newest diagnostic and treatment technologies for all your foot and ankle injuries.
Read more about Everyday Foot Care
Debilitating foot pain is a problem for many people. But just as stretching the torso can help alleviate back pain, stretching the feet can also mend existing problems and prevent future ones.
The feet carry the entire weight of the human body all day and can get easily strained from overexertion. Persistent sharp pain and cramping in the feet are common problems. Foot pain and problems can be due to any number of causes, and in many cases pain may be eased without medication or doctor visits; however, it is always a good idea to rule out any serious medical issues first with a physician.
Stretching may help relax the feet and alleviate pain at any time, but it is especially important before heavy aerobic exercise to avoid painful cramps or straining muscles in the feet. Stretches should be performed slowly and deliberately without forceful pulling. The stretch should be held for several seconds, and then relaxed.
A great way to stretch out and loosen up the foot muscles while sitting is to cross one leg over the other and pull the toes carefully back without overextending. Start by resting the left ankle on the right knee. With the left hand, gently flex the left foot by pulling back on the toes. Do not pull too hard, just hard enough to feel the stretch in the arch of the foot. Then point the toes of the left foot as far as you can. Rotate the motion of pointing with pulling back on the toes. This should relax and stretch the muscles on the bottom and the top of the foot. Doing this stretch ten to twenty times should bring relief. Repeat the whole process for the other foot by resting the right ankle on the left knee.
A stretch that focuses on the often injured Achilles tendon involves standing, facing a wall, with your arms out and hands flat against the wall. Step back with one foot, keeping it flat against the floor. Move the other leg forward and lean toward the wall. You should feel a stretch through the back of your leg and your Achilles tendon, but do not push yourself too much. Stop when you feel the stretching sensation and hold for 30 seconds. Ten repetitions may be done for each foot.
Stretching the feet is important for athletes or those performing aerobic exercise, but it can also help anyone with foot pain caused by poor footwear, plantar fasciitis, or long hours standing and walking. Individuals who tend to their feet by regular stretching every day should be able to minimize foot pain and prevent new problems from arising.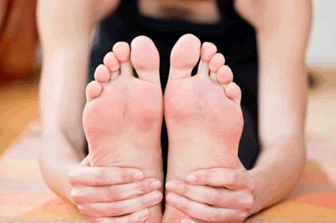 Although flip flops are a great method of footwear during warmer months because they appear to be comfortable and convenient, users have to clench their foot muscles to keep them on. This makes the feet susceptible to foot injuries over time. The following foot stretches were created to help reduce the tension flip-flops may cause on the feet.
Stand up straight with one leg reaching behind you while tucking the toes under the foot and place on the floor. Hold stretch for one minute. Can also be done while sitting down.
Place the ball of the foot against a rolled up towel or wall, straighten knee, and let the heel touch the ground. Hold for one minute three times on each foot.
Sit down and cross legs, interlace fingers and toes on one foot and spread toes. Hold for one minute and switch to the other foot.
Stretching the feet is a great way to prevent injuries. If you have any concerns with your feet contact Dr. Jon M. Sherman of Kentlands Foot and Ankle Center . Our doctor will treat your foot and ankle needs.
Stretching Your Feet
Being the backbone of the body, the feet carry your entire weight and can easily become overexerted, causing cramps and pain. As with any body part, stretching your feet can serve many benefits. From increasing flexibility to even providing some pain relief, be sure to give your feet a stretch from time to time. This is especially important for athletes or anyone performing aerobic exercises, but anyone experiencing foot pain or is on their feet constantly should also engage in this practice.
Good ways to stretch your feet are:
Crossing one leg over the others and carefully pull your toes back. Do 10-20 repetitions and repeat the process for each foot
Face a wall with your arms out and hands flat against the wall. Step back with one foot and keep it flat on the floor while moving the other leg forward. Lean towards the wall until you feel a stretch. Hold for 30 seconds and perform 10 repetitions for each foot
Be sure not to overextend or push your limbs too hard or you could risk pulling or straining your muscle
Individuals who tend to their feet by regular stretching every day should be able to minimize foot pain and prevent new problems from arising.
If you have any questions please feel free to contact our office located in Gaithersburg, MD . We offer the newest diagnostic tools and technology to treat your foot and ankle needs.
Read more about stretching the feet.
Barefoot running is becoming a popular running trend that has been permeating through the running and jogging communities. The act of running without shoes changes more about the motions of your stride than you may think, and choosing to run without shoes is not the only adjustment you will have to make.
Whenever you run normally, with shoes, your heel strikes the ground first as you land while you roll over the ball of your foot and push off with the front part and toes. Barefoot runners actually land on the front part of their feet and not their heels, shifting the impact from the back to the front of the foot. In order to do this safely and without much injury, runners need to reduce their stride to create softer landings.
One of barefoot running's biggest advantages is the reduced risk of injury. Landing on the front of your foot with a reduced stride lessens the stress placed on the back of the foot, heels, and ankles. It also works out many muscles in the feet, ankles, and lower legs that you do not normally get to strengthen because of the different motion. Your posture and balance are also improved with barefoot running, as is your sensory input from your feet to the rest of your body. Studies have shown that ironically, countries that have large populations of people who do not wear shoes every day are at lower risk for foot and ankle injuries and complications.
However, there is still some skepticism behind barefoot running because of some disadvantages it brings. One of these is the complete lack of protection for your feet while running. Bruises, scrapes, cuts, and even blisters can easily form when you have no protection from sharp or rough objects on the ground. Landing on the front of your feet can also cause Achilles tendonitis because of the overuse of the Achilles tendon.
Despite this, barefoot running can be made safe and enjoyable if you make a slow transition from your normal running routine into barefoot running. You cannot simply start the activity out of the blue one day, but instead gradually work your way from walking to jogging to running, increasing the distance each time. It is also recommended to start off on flat, even surfaces that do not contain sharp or dangerous objects because your feet are now unprotected. Minimalist running shoes are a great middle ground to start with because they combine the protection of shoes with the fit and feel of barefoot running.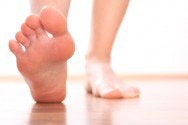 Academy award nominated Hollywood Actor, Jake Gyllenhaal, is known for taking on intense roles where he needs to be extremely fit. Recently Gyllenhaal, the self-proclaimed exercise addict has taken up barefoot running and states that activity has done wonders to reduce the usual muscles soreness he feels after runs with shoes. Although the Southpaw actor particularly enjoys barefoot running, he states, "I've had to teach myself how to slow down a bit, because I get so into it, it becomes a real addiction."
Barefoot running has its own share of benefits and disadvantages. To learn more about this trend, consider speaking to Dr. Jon M. Sherman of Kentlands Foot and Ankle Center . Our doctor will explain the facts of barefoot running and help you decide if it's a practice you'd like to take up.
Barefoot Running
The Impact of Barefoot Running
-Running without shoes changes the motion of your running, as most running is done by landing on the heel of the feet.
-Running barefoot requires a different way of running; the landing is done on the front part of the feet.
The Advantages of Barefoot Running
-When running and landing on the front feet, the impact on the feet and ankle is reduced, this can reduce stress injuries.
-It strengthens muscles in the feet and ankles and the lower legs.
-Balance of the body is improved and there is a greater sensory input from the feet to the rest of the body.
The Drawbacks of Barefoot Running
-No protection while running, makes it likely that runners will land on sharp objects and scrapes, bruises and cuts on the feet will result.
-Blisters may form.
-Possibility of plantar fascia problems.
-Risk of getting Achilles tendonitis.
So what can runners do to make barefoot running safe? It's best to make a slow transition from running shoes to barefoot running. Once the feet begin to adjust, try walking, then jogging and gradually increasing the distance. Minimalist running shoes may also be an option.
If you have any questions, please contact our office located in Gaithersburg, MD . We offer the newest diagnostic and treatment technologies for all your foot care needs.
Read more about Barefoot Running
Archives
2017
2016
2015
2014