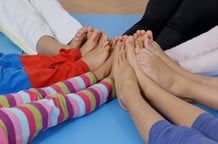 Wearing shoes that have proper support for the feet is crucial in maintaining foot health . High heels are not the only shoes that should come to mind when thinking of shoes that lack support. Flats, sandals, and shoes made with synthetic fabrics are equally as bad as heels in terms of the amount of support they provide. Flip-flops have been linked to foot, ankle, and knee pain as well as gait abnormalities. It is important to be selective when choosing a pair of shoes in order to prevent injury as well as other difficulties while walking.
Every day foot care is very important to prevent infection and other foot ailments. If you need your feet checked contact Dr. Jon M. Sherman of Kentlands Foot & Ankle Center . Our doctor can provide the care you need to keep your pain-free and on your feet.
Every Day Foot Care
Often, people take care of their bodies, face and hair more so than they do for their feet. But the feet are a very important aspect of our bodies, and one that we should pay more attention to. After all, without our feet, we would not be able to perform most daily tasks. It is best to check your feet regularly to make sure there are no new bruises or cuts that you may not have noticed before, for example.
For dry feet, moisturizer can easily be a remedy and can be applied as often as necessary to the affected areas. Wearing shoes that fit well can also help you maintain good foot health, as well as making it easier to walk and do daily activities without the stress or pain of ill-fitting shoes, high heels, or even flip flops.
Also, wearing clean socks with closed shoes is important to ensure that sweat and bacteria do not accumulate within the shoe. Clean socks help to prevent athlete's foot, fungi problems, bad odors, and can absorb sweat.
If you have any questions please feel free to contact our offices located in Gaithersburg, MD . We offer the newest diagnostic tools and technology to treat your foot and ankle needs.
Read more about Everyday Foot Care
Our feet are important in our everyday lives. The problem is that we tend to neglect them. When this becomes a habit, it can cause significant trouble. Ignoring foot problems can mean pain, limited mobility, and expensive doctor's visits. On the other hand, if feet are cared for and looked after regularly, they will perform without pain or complication.
Routine hygiene is the most basic way to care for the feet. Wash and dry them thoroughly daily. Remember to get between the toes and keep the toenails trimmed and short. If the feet feel dry or there are signs of dryness or cracking, use a moisturizer designed for the feet.
When using moisturizer on the feet, try to avoid applying between the toes. If cream or lotion sits too long, they can cause fungal and bacterial growth. When moisturizer is used between the toes, it can also cause the skin to soften too much.
Shoes are also an important aspect of foot care. When one is picking out shoes, make sure they are the correct size. Shoes need to be snug, but not too tight. On the other hand, if shoes are too loose they can cause foot problems as well. It is highly recommended that shopping for new shoes be done later in the day. The reason for this is that the feet will have settled and swelled to their full size by then. To keep your feet at their most healthy, avoid wearing high heels or flip flops too often. Instead, choose shoes that are good for your feet. Good shoes pad the soles of your feet and support the arches and ankles.
Socks should also be worn daily with closed-toe shoes. They may feel hot during the summer months, but they absorb sweat and moisture off the feet. Without socks, the build-up of sweat in a closed-toe shoe can cause fungal problems and athlete's foot.
The best thing to remember in every day foot care is that shoes do make a difference. If you spend a lot of time on your feet, make sure that your shoes show no signs of wear. Shoes should offer ample support for the arches and the overall foot. Additionally, try to make foot cleaning and maintenance a daily habit. If you keep these things in mind, your feet will stay healthy and safe.
Whether in practice or in the game, athletes put their bodies through great stress. Some sports demand more from the body than others. However, every sport has an element of inorganic movement or unnatural motion. For example, in softball, a pitcher winds up and flings her body with an incredible amount of dexterity in order to get the most ideal velocity out of her pitches. This motion, incredibly taxing on the body, can cause serious injury.
One of the most common issues of athletic injuries happens in the feet. If it's a damaging fracture that leaves the athlete sidelined or just a simple turf toe, foot injuries can still be very frustrating and painful. Regardless of the sport, athletes still require use of their feet in some fashion. This is why foot therapy is extremely vital for getting athletes back on the right track to return to the field.
No matter the injury, the best way to speed up the recovery period is to receive physical therapy. Physical therapy has proven to work for millions of people. Professional physical therapists are specifically trained to help people return to proper form from any injury.
During physical therapy, you will go through organized training in order to get back into form. Sometimes training can be quite difficult, especially in the beginning when there is more pain and the foot feels awkward. To alleviate this, you will do basic twisting and stretching exercises in order to get flexibility and foot mobility back up. The therapist will also massage the injured area to activate and relax muscles. Over time you will eventually move up to strengthening exercises, designed specifically so that the injured area is exercised.
Foot therapy for sports is a modern science miracle. Unlike other treatments that may employ the use of fancy chemicals and terminology, physical therapy is an evidence-based practice that offers the same benefits. Due to huge advancements in the knowledge of muscles and joints, doctors can turn catastrophic injuries around so that athletes can return to the game once more.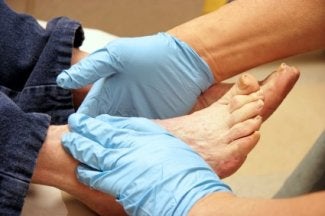 Arthritis is a common condition that can affect the feet as well as many other parts of the body. Fortunately for those who suffer from the condition, there are massage options available in order to alleviate pain and stiffness. Massage therapists can help those who struggle with discomfort. Mild stretches combined with self-guided muscle release steps will have a positive impact on your body. Massage techniques can also be customized in order to fit your needs and limitations.
Foot therapy is necessary for those recovering from both foot deformities and foot injuries. If you have concerns regarding therapy, contact Dr. Jon M. Sherman of Kentlands Foot & Ankle Center . Our doctor can provide the care you need to keep your pain free and on your feet.
Most common injuries
People who are constantly on their feet are prone to a variety of injuries. Therefore, it is important to take part in physical therapy in order to get back on the right track quickly.
What to do when injured
Physical Therapy – This specialized treatment will focus on the affected area, speeding up recovery and the overall healing process. This is important for those wanting to get back into the game quickly. It is a proven method that has helped millions of people return from any injury.
During physical therapy you will undergo regimented training to get back into full form. Training is often very difficult, especially at first when the foot feels weak. These are some steps physical therapy often involves:
Basic stretching & twisting exercises – getting the feet's mobility and flexibility up.
Massaging – the therapist will massage the injured area in order to activate the muscles and relax them.
Strengthening Exercises – this allows the muscles in the affected area to regain their full strength, a vital step towards full recovery.
If you have any questions please feel free to contact our office located in Gaithersburg, MD . We offer the newest diagnostic tools and technology to treat your foot and ankle needs.
When it comes to maintaining foot health, wearing properly-fitting shoes is important. While wearing the appropriate pair of shoes may seem like a trivial concern, the reality is that improperly fitted shoes cause an astounding amount of injuries to the feet. The overall structure and the biomechanics of our bodies are directly affected by our posture, gait, and feet; because of this, pain and discomfort felt throughout the body are often related to a problem in the feet—and most foot problems usually stem from improper footwear.
Shoes should not be purchased with the expectation that they will easily stretch and contort to the size and shape of your feet. When shopping for footwear, look for shoes that fit correctly and comfortably as soon as you put them on. Do not purchase shoes that are too large or that slip in the heel area when you walk, and do not choose shoes that slip or that are loose with the intention of wearing thicker socks to compensate for the space. The widest portion of the shoe, the ball of the foot, must be made sure to fit comfortably in the shoe.
Keeping all of these suggestions in mind may be difficult when shopping and when trying to select from a wide array of different shoes. Nonetheless, your time and money will be wasted if you purchase a pair of shoes that are too uncomfortable for you to actually wear them. After finally selecting and purchasing a pair of shoes, try them on at home. To truly ensure whether or not your shoes fit comfortably with normal activity, walk around on a carpeted surface to determine how they feel on your feet.
The possibility of damaging your feet's 33 joints, 26 bones, and 100+ ligaments is much higher than many people suspect. Finding an appropriate and properly-fitted pair of shoes is perhaps the single most important action you can take to maintain excellent foot health and help prevent injury. The fact that our feet continue to change with age is one that many people often forget. Even if our feet no longer change in size with greater maturity, our feet will still change in shape.
If you already have pre-existing foot problems, there is a great possibility that wearing improperly-fitted shoes will worsen those problems. The good news, however, is that appropriate footwear is not difficult to find. While shopping for shoes, remember that improper footwear can not only detrimentally affect the feet, but the entire body and its biomechanical structure as well. The shoes you wear can greatly impact your legs, back, and entire body, as your posture and gait are related to your feet. Finding and selecting the best properly-fitted shoes is necessary in achieving optimal health.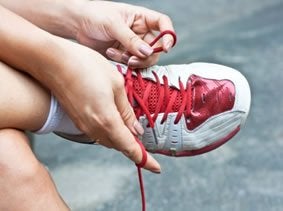 If you're experiencing leg pain, it may be because of ill-fitting shoes , according to Dr. Samridhi Saxena, senior physiotherapist. Choose the proper shoes, especially if you are an avid exerciser, by using an impression of your foot to help determine your own foot shape and pattern. The type of shoe you wear can also affect your feet in the long term. When choosing shoes, make sure to consider what type of activity you will be wearing the shoes for, and shop accordingly. Treat any leg pain you may experience by stretching the sore muscle and taking a warm shower to alleviate the area.
Finding a properly-fitting shoe is important in reducing injuries and preventing foot problems. For more information about treatment, contact Dr. Jon M. Sherman of Kentlands Foot & Ankle Center . Our doctor can provide the care you need to keep your pain free and on your feet.
Proper Shoe Fitting
A common concern when it comes to foot health, having properly fitted shoes can help prevent injuries to the foot. Out feet affect our posture and gait, which in turn affects the biomechanics and overall bodily structure. With 33 joints, 26 bones, and over 100 ligaments, the potential for serious injury is much greater than one realizes. Although the feet cease growth in adulthood, they still change shape as they mature. Here are some factors to consider when it comes to investing in proper fitting shoes:
Be sure the shoes fit correctly right away
Ensure the ball of your foot fits comfortably in the widest portion of the shoes
Even though they may look fashionable, improper fitting shoes can either create adverse conditions or exacerbate existing ones you may already have
Walk along a carpeted surface to ensure the shoes comfortably fit during normal activity
Keeping in mind how shoes fit the biomechanics of your body, properly-fitting shoes is vitally important. Fortunately, it is not difficult to acquire footwear that fits correctly. Be sure to wear shoes that support the overall structure of your body. Do your feet a favor and invest in several pairs of well-fitted shoes today.
If you have any questions please feel free to contact our office located in Gaithersburg, MD . We offer the newest diagnostic tools and technology to treat your foot and ankle needs.
Read more about proper shoe fitting.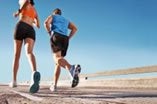 Both walking and running are beneficial exercise for your feet and your body, both of which contribute toward weight loss. However, running is more strenuous, leading to an increased risk of injury. Running "produces ground reaction forces of approximately 2.5 times body weight compared to 1.2 times that for walking," according to the article. Because of this, it's important to build up your overall muscles and take breaks when needed. Starting new exercises, especially as intense as running, requires time for your body to adapt so that injury can be prevented.
Runners can still be prone to running injuries even with proper precautions. If you are suffering from a running injury, contact Dr. Jon M. Sherman of Kentlands Foot & Ankle Center . Our doctor can provide the care you need to keep your pain free and on your feet.
How to Prevent Running Injuries
Many common running injuries are caused by overuse and overtraining. When the back of the kneecap starts wearing out and starts causing pain in your knee, this is commonly referred to as runner's knee. Runner's knee is a decrease in strength in your quadriceps and can occur if you're not wearing properly fitted or supporting shoes. To prevent runner's knee, focusing on hip strengthening is a good idea, as well as strengthening your quads to keep the kneecaps aligned.
What Are Some Causes of Running Injuries?
– One cause of a common running injury is called iliotibial band syndrome.
– Plantar fasciitis is also another common injury.
– Stress fractures can occur from overtraining, lack of calcium, or even your running style.
Best Ways to Prevent Running Injuries
– Wear footwear that fits properly and suits your running needs.
– Running shoes are the only protective gear that runners have to safeguard them from injury.
– Make a training schedule. Adding strengthening exercises as well as regular stretching can help keep you strong and limber and can lessen the possibility of injuries.
– Stretching keeps muscles limber, this will help you gain better flexibility.
If you have any questions please feel free to contact our office located in Gaithersburg, MD . We offer the newest diagnostic tools and technology to treat your foot and ankle needs.
Read more about How to Prevent Running Injuries
Overtraining and overusing the feet are the main causes of common running injuries. A number of these common injuries are caused by overrunning. Runner's knee is a condition that is characterized by the back of the kneecap beginning to wear away and cause pain in the knee. This frequently occurs due to either a decrease in strength in the quadriceps muscles or ill-fitting shoes that are lacking in proper support for the inside of the forefoot. Strengthening exercises focusing on the quad muscle and sports orthotics are the usual treatments for those suffering from runner's knee. Prevention of the condition lies in a focus on hip strengthening and quad-strengthening to keep the kneecap aligned. To help learn the best exercise to heal runner's knee, one can also undergo physical therapy.
One common injury, called iliotibial band syndrome, is often caused by overtraining. This condition occurs when the iliotibial band gets irritated, creating pain and discomfort in the outside knee area. Plantar fasciitis, another common running injury, also occurs as a result of inflammation and irritation. Plantar fasciitis is an inflammation and irritation of the bone in the foot. A large amount of pain is often experienced due to plantar fasciitis. The condition can be caused by a high arch, improper footwear, tight muscles, or flat feet. It can best be avoided by stretching and wearing appropriate footwear that supports the foot.
Another common injury for runners is stress fractures. These injuries occur due to running style, overtraining, or a lack of calcium. Stress fractures most often occur in several locations in runners, including the inner bone of the leg, the thighbone, the bone at the base of the spine and the bones of the toes. Stress fractures are best prevented by wearing proper footwear and by running on flat and hard surfaces; this will absorb some of the shock created during running.
Aside from overtraining, other causes of common running injuries include ill-fitting footwear, a lack of flexibility and strength, and irregular biomechanics. The best way to avoid running injuries is to prevent them from even occurring. Both iliotibial band syndrome and stress fractures are preventable. The first step that should be taken to prevent running injuries is to only wear footwear that fits properly and that is appropriate for whatever activity you are doing. Running shoes are the only protective gear available to runners that can safeguard them from sustaining injuries. Choosing the right pair of shoes is therefore extremely important. While running shoes are an important factor, it is also important to consider other facets of your running routine such as training schedules, flexibility, and strengthening. These elements should be considered and altered according to your running needs to best maximize your run and minimize the possibility of injury. Careful stretching before and after a run should also be considered to help prevent running injuries. Stretching muscles enables greater flexibility and a lesser chance of sustaining injury.
Archives
2017
2016
2015
2014