A young man named Anthony recently got into a fight with another man in Florida. Anthony attempted to run away from the other man in order to avoid being attacked. He jumped over a hill, but unfortunately landed incorrectly. As a result, Anthony now has two broken ankles.
Broken ankles need immediate treatment. If you are seeking treatment, contact Dr. Jon M. Sherman of Kentlands Foot & Ankle Center . Our doctor can provide the care you need to keep you pain-free and on your feet.
Broken Ankles
A broken ankle is experienced when a person fractures their tibia or fibula in the lower leg and ankle area. Both of these bones are attached at the bottom of the leg and combine to form what we know to be our ankle.
When a physician is referring to a break of the ankle, he or she is usually referring to a break in the area where the tibia and fibula are joined to create our ankle joint. Ankles are more prone to fractures because the ankle is an area that suffers a lot of pressure and stress. There are some obvious signs when a person experiences a fractured ankle, and the following symptoms may be present.
Symptoms of a Fractured Ankle
Excessive pain when the area is touched or when any pressure is placed on the ankle
Swelling around the area
Bruising of the area
Area appears to be deformed
If you suspect an ankle fracture, it is recommended to seek treatment as soon as possible. The sooner you have your podiatrist diagnose the fracture, the quicker you'll be on the way towards recovery.
If you have any questions please feel free to contact our office located in Gaithersburg, MD . We offer the newest diagnostic and treatment technologies for all your foot and ankle needs.
Read more about broken ankles.
Broken ankles are a serious injury that can lead to an inability to walk, function, and also cause a significant amount of pain. A broken ankle is a break in one of the three bones in your body that connect at the ankle joint, the tibia, the fibula, and the talus. The tibia and fibula are your two primary leg bones that connect at the knee, which sit directly upon the talus bone. This is protected by a fibrous membrane that allows for movement in our ankle joint. A broken ankle is usually caused by the foot rolling under or twisting too far, causing one of these three bones to snap.
A broken ankle is different from an ankle sprain, which occurs when the ligaments are ripped or torn but no bones have been broken. A sprain can still be very severe, causing bruising in the foot and an inability to hold your own weight, much like a broken ankle would. If you're unable to stand, and suspect that you have a broken ankle, the first thing to do would be to get an immediate x-ray to determine the severity of the break.
A common cause of broken ankles is when the ankle is rolled over with enough pressure to break the bones. This usually happens during exercise, sports, or other physical activity. Another common cause is a fall or jump from a tall height.
One immediate treatment for pain relief is elevating the feet above your head to reduce blood flow to the injured area. You can also apply ice packs to your ankles to help reduce swelling, redness, inflammation, and pain. After these initial steps, getting a cast and staying off your feet as much as possible will aid in the recovery of the broken ankle. The less movement and stress the ankle has to endure, the more complete it will heal. A doctor can determine if surgery is needed in order to heal correctly. In these cases, an operation may be the only option to ensure the ability to walk properly again, followed by physical therapy and rehabilitation.
It is highly important to determine if surgery is needed early on, because a broken ankle can become much more severe than you realize. If not professionally treated, the broken ankle will inhibit your walking, daily functioning, and produce a large amount of pain. Treating your broken ankle early on will help prevent further damage to it.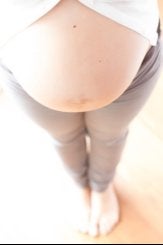 A woman's body changes in various ways when she is pregnant. It is very common for pregnant women to experience swelling in their feet , hands and face. However, women who have swollen feet during pregnancy should mention them to their doctor. Alerting a doctor of swollen feet is important in order to rule out a condition called preeclampsia, which causes swelling during pregnancy.
Pregnant women are susceptible to aching and swollen feet and should be treated with care. If you are seeking treatment, contact Dr. Jon M. Sherman of Kentlands Foot & Ankle Center . Our doctor will treat your heel pain symptoms in addition to other podiatric-related needs.
What foot problems can arise during pregnancy?
One problem that can occur is over-pronation, which occurs when the arch of the foot flattens and tends to roll inward. This can cause pain and discomfort in your heels while you're walking or even just standing up, trying to support your baby.
Another problem is edema, or swelling in the extremities. This often affects the feet during pregnancy, but tends to occur in the later stages.
How can I keep my feet healthy during pregnancy?
Wearing orthotics can provide extra support for the feet and help distribute weight evenly
Minimize the amount of time spent walking barefoot
Wear shoes with good arch support
Wear shoes that allow for good circulation to the feet
Elevate feet if you experience swelling
Massage your feet
Get regular, light exercise, such as walking, to promote blood circulation to the feet
If you have any questions please feel free to contact our offices located in Gaithersburg, MD . We offer the newest diagnostic tools and technology to treat your foot and ankle needs.
Read the more about Pregnancy and Foot Health
Many pregnant women complain about foot pain while they are expecting. Foot pain can primarily be caused by weight gain and hormonal changes taking place in the body. By understanding how pregnancy impacts the health of a woman's feet, a pregnant woman can take action to keep her feet as healthy and comfortable as possible.
Because a woman's weight changes during pregnancy, more pressure is brought to bear on both the legs and the feet. This weight shift can cause two major foot problems: over-pronation, also known as flat feet, as well as edema, which is swelling of the feet. Over-pronation occurs when the arch of the foot flattens, causing the foot to roll inwards when the individual is walking, and can aggravate the plantar fascia tissues located along the bottom of the feet. If these tissues become inflamed, a pregnant woman can experience pain in the heel of the foot as well as severe foot pain while walking or standing. Swelling of the feet, or edema, often occurs in the later stages of pregnancy. It is caused by slow circulation and water retention, and may turn the feet a light purple color.
To keep feet in good health and prevent over-pronation, pregnant women should avoid walking barefoot and be sure they are wearing shoes that offer good arch support. A device known as an orthotic can be added to regular footwear in order to provide additional support for the feet during pregnancy. Any expectant mother whose feet hurt should first check to see if the shoes she is wearing are old, worn out and not offering the proper support necessary for distributing the weight of her body during pregnancy.
To treat edema of the feet, a good start is to wear quality footwear which offers support and good circulation. Keep feet elevated whenever possible by using a foot stool while seated. Stay well hydrated by drinking plenty of water to prevent water retention in the feet. Any swelling that occurs in only one foot should be examined as soon as possible by a doctor.
Good foot health during pregnancy can help expectant mothers avoid foot pain that leads to other health problems. Massaging the feet and doing regular gentle exercise like walking aids foot health by contributing to good circulation. Supportive shoes are also a good investment that will support foot health during pregnancy.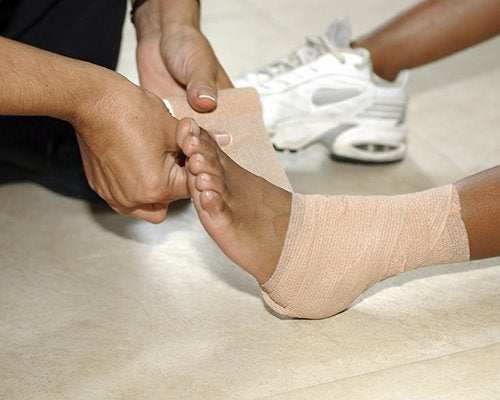 Seattle Mariners' RHP Taijuan Walker injured his right Achilles tendon during his start against the Tampa Bay Rays. He left the game after giving up a triple to Cory Dickerson in the fourth inning. Edwin Diaz was later called from the bullpen to replace the injured Walker.
Achilles tendon injuries need immediate attention to avoid future complications. If you have any concerns Dr. Jon M. Sherman of Kentlands Foot & Ankle Center . Our doctor will treat your foot and ankle needs.
What is the Achilles Tendon?
The Achilles tendon is a tendon that connects the lower leg muscles and calf to the heel of the foot. It is the strongest tendon in the human body and is essential for making movement possible. Because this tendon is such an integral part of the body, any injuries to it can cause severe difficulties and should immediately be presented to a doctor.
What are the symptoms of an Achilles Tendon Injury?
There are various types of injuries that can affect the Achilles tendon. The two most common are Achilles tendinitis and ruptures of the tendon.
Achilles Tendinitis Symptoms
– Inflammation
– Dull to Severe Pain
– Increased blood flow to the tendon
– Thickening of the tendon
Rupture Symptoms
– Extreme pain and swelling in the foot
– Total immobility
Treatment and Prevention
Achilles tendon injuries are diagnosed by a thorough physical evaluation, which can include an MRI. Treatment involves rest, physical therapy, and in some cases, surgery. However, various preventative measures can be taken to avoid these injuries, such as:
– Thorough stretching of the tendon before and after exercise
– Strengthening exercises like calf raises, squats, leg curls, leg extensions, leg raises, lunges, and leg presses
If you have any questions, please feel free to contact our office in Gaithersburg, MD . We offer the newest diagnostic and treatment technologies for all your foot care needs.
Read more about Achilles tendon injuries.
The Achilles tendon is the strongest tendon in the human body. Its purpose is to connect the lower leg muscles and calf to the heel of the foot. This tendon is responsible for facilitating all types of movement, like walking and running. This tendon provides an enormous amount of mobility for the body. Any injuries inflicted to this tissue should be immediately brought up with a physician to prevent further damage.
The most common injuries that can trouble the Achilles tendon are tendon ruptures and Achilles tendinitis. Achilles tendinitis is the milder of the two injuries. It can be recognized by the following symptoms: inflammation, dull to severe pain, an increased flow of blood to the tendon, thickening of the tendon, and slower movement time. Tendinitis can be treated via several methods and is often diagnosed by an MRI.
An Achilles tendon rupture is trickier to heal, and is by far the most painful injury. It is caused by the tendon ripping or completely snapping. The results are immediate and absolutely devastating, and will render the patient immobile. If a rupture or tear occurs, operative and non-operative methods are available. Once the treatment begins, depending on the severity of the injury, recovery time for these types of issues can take up to a year.
Simple preventative measures can be taken as a means to avoid both injuries. Prior to any movement, taking a few minutes to stretch out the tendon is a great way to stimulate the tissue. Calf raises, squats, leg curls, leg extensions, leg raises, lunges, and leg presses are all suggested ways to help strengthen the lower legs and promote Achilles tendon health.
Many problems arise among athletes and people who overexert themselves while exercising. Problems can also happen among those who do not properly warm up before beginning an activity. Proper, comfortable shoes that fit correctly can also decrease tendon injuries. Some professionals also suggest that when exercising, you should make sure that the floor you are on is cushioned or has a mat. This will relieve pressure on the heels. A healthy diet will also increase tendon health.
It is very important to seek out a podiatrist if you believe you have an injury in the Achilles region. Further damage could result in severe complications that would make being mobile difficult, if not impossible.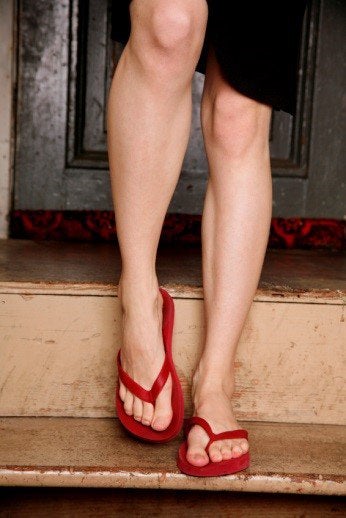 This time of year flip-flops may seem like the more convenient choice of footwear, but over longer periods of time this proves to be untrue. Due to their extreme lack of support, flip-flops can cause pain in the feet over time. Aside from the straps keeping the shoes on the feet, there is no other form of protection on flip-flops. This allows the lower extremities to become more susceptible to sunburn and fungal infections. Damaged toes, poor posture and heel pain are other issues to consider.
Flip-flops are not always the best choice of footwear. If you have any questions concerning the feet, contact Dr. Jon M. Sherman of Kentlands Foot & Ankle Center . Our doctor will assist you with all of your foot and ankle needs.
Flip-Flops and Feet
When the weather starts warming up, people enjoy wearing flip-flops. Flip-flops are comfortable, stylish, and easy to slip on and off, perfect for any summer beach goer. However, these shoes can cause harm to the feet.
How Can Flip-Flops Affect Me Long-Term?
Ankle problems
Hip problems
Lower back problems
Pain in the balls of the feet
Problems with foot arches
Changes in the way you walk
Are there injuries associated with flip-flops?
Yes. Since flip-flops are relatively weak and do not provide the same amount of support as sneakers, people who wear flip-flops are more susceptible to injuries. On top of that, the open nature of the shoe makes your feet more prone to other problems, such as cuts and even infections. Common injuries and ailments include:
Sprained ankles
Blisters
Infections
Cuts and Scrapes
I like wearing flip-flops, are there safe alternatives?
When buying flip-flops, try to find ones that have sturdy soles and are made of high quality materials that will support for your feet. These flip-flops will cost more, but will also last longer as a result.
If you have any questions please feel free to contact our office located in Gaithersburg, MD . We offer the newest diagnostic and treatment technologies for all your foot and ankle needs.
Read more about Flip-Flops and Your Feet
Flip-flops are often a popular choice of footwear for many people. Flip-flops allow your feet to breatheand give your toes the freedom of movement. They are easy to slip on and can be worn with virtually any style of clothing. Flip-flops, however, despite their many benefits, can be detrimental for your foot health.
Despite their comfortableness, frequently wearing flip-flops can create problems in the lower body over time. Issues mainly stem from the fact that people walk differently in flip-flops compared to other footwear, such as sneakers. This is due to a change in one's natural gait, which therefore creates stress in different parts of the body while hindering the body's natural posture. Problems can also arise in the arches and balls of the feet. Flip-flops provide little to no support to these areas.
Aside from long-term problems, flip-fops can also create short-term issues as well, such as ankle sprains and blisters. Weak materials that are flexible and bendable are generally used to manufacture flip-flops. These materials make its wearers prone to both tripping and injuring their ankles.Flip-flops can create blisters as the material rubs against the foot. People are much more at risk for infection while wearing flip-flops due to their openness. This also makes it easier to scrape and cut the foot since there is a lack of protection. If these cuts are left unt r eated and uncovered, the risk then becomes greater.
To prevent the aforementioned occurrences, purchase a pair of flip-flops that offer significant protection. The soles of the flip-flops should not be floppy, but sturdy and firm, and should not significantly bend or wiggle when lifted from the floor. Flip-flops made of high-quality materials will not be affected by this problem. While higher quality flip-flops may be more expensive, they will last longer and provide better protection compared to a cheaper pair. Brand name flip-flops sold from a quality manufacturer are a dependable option.
There is no problem in wearing your favorite pair of flip-flops so as long as you do not wear them daily or for extended periods of time. Flip-flops should be replaced every 3-4 months to ensure that they provide your feet with the best protection.
Archives
2017
2016
2015
2014