During your lifetime, you will probably walk about 75,000 miles, which is quite a lot of stress to put on your feet. As you get older, the 26 bones and 30 joints in each of your feet will lose flexibility and elasticity.Your foot's natural shock absorbers will wear down as well. Having arthritis added to this mix only makes matters worse. Your joints will become distorted and inflamed, which is why arthritic foot care needs to be something to think about every day.
When dealing with arthritis, having additional foot complications, such as bunions, hammertoes, or neuroma, can be a serious detriment. To avoid these, buy well-fitting shoes with a lower heel and good support. Arthritis causes you to lose your arch, so having shoes with good arch support is also highly recommended.
Aside from getting good arch support, the shoes need to fit comfortably and properly as well. A good place to start is by leaving a finger width between the back of the shoe and your foot to gauge proper size. It is also helpful to have a square or rounded toe box in the front to provide even more comfort. Another thing to look for is a rubber sole that can provide a cushion and absorb shock as you walk. This adds flexibility to the ball of your foot when you push off your heel to walk.
Exercise is another key aspect of arthritic foot care. Exercise not only strengthens and stretches your muscles and joints, but helps to prevent further injury and pain as well. Stretching the Achilles tendon, the tendon located in the back of your heel, will give you added mobility and reduce pain due to stress. Another thing you can do is massage your feet, kneading the ball of your foot as well as your toes from top to bottom.
Stretching the Achilles tendon is a simple exercise that you can do at home anytime. Lean against the wall with your palms flat against the surface while placing one foot forward, towards the wall, and one foot behind you. Bend your forward knee towards the wall while keeping your back knee locked straight, and make sure both your heels are completely touching the ground at all times. This will stretch your Achilles tendon and calf muscles as well. You will feel the stretch almost immediately. You can also stretch your toes in a couple ways. One involves taking a rubber band and wrapping it around both your big toes while your heels remain together. Then, pull them apart to stretch your big toe. You can also place a rubber band around all the toes of one of your feet. Then, try to separate each individual toe, stretching them all.
A final step you can take to help your arthritis is taking non-steroid, non-inflammatory drugs or topical medicines with capsaicin. Unfortunately, there is no complete way to remove all of your arthritic pain.However, following some of this advice can go a long way in staying as pain-free as possible.
Read more about arthritic foot care.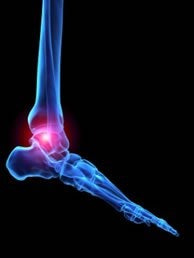 Arthritis flares up more commonly as we age, as a chronic condition in which the joints of the body become inflamed. Arthritis can be caused by previous injury to the joints or by genes. Common forms of arthritis include osteoarthritis and rheumatoid arthritis. Possible treatment options recommended by timesargus include acupuncture and Chinese herbs.
Arthritis can be a difficult condition to live with. If you are seeking treatment,contact Dr. Jon M. Sherman of Kentlands Foot & Ankle Center . Our doctor will treat your foot and ankle needs.
Arthritic Foot Care
Arthritis is a joint disorder that involves inflammation of different joints in your body, such as in your feet. Arthritis is often caused by a degenerative joint disease and causes mild to severe pain in all affected areas. On top of this, swelling and stiffness in the affected joints can also be a common symptom of arthritis.
In many cases, wearing ill-fitting shoes can worsen the effects and pain of arthritis. Wearing shoes that have a lower heel and extra room can help your feet feel more comfortable. In cases of rheumatoid arthritis, the arch in your foot may become problematic. Buying shoes with proper arch support that contour to your feet can help immensely.
Alleviating Arthritic Pain
Exercises that stretch the foot can prevent further pain and injury and increase mobility
Most of the pain can be alleviated with anti-inflammatory drugs, heat, and topical medications
Massages can help to temporarily alleviate pain.
It is best to see your doctor for the treatment that is right for your needs and symptoms. Conditions vary, and a podiatrist can help you determine the right method of care for your feet.
If you have any questions please feel free to contact our office located in Gaithersburg, MD . We offer the newest diagnostic and treatment technologies for all your foot and ankle needs.
Read more about arthritic foot care.
Our feet are important in our everyday lives. The problem is that we tend to neglect them. When this becomes a habit, it can cause significant trouble. Ignoring foot problems can mean pain, limited mobility, and expensive doctor's visits. On the other hand, if feet are cared for and looked after regularly, they will perform without pain or complication.
Routine hygiene is the most basic way to care for the feet. Wash and dry them thoroughly daily. Remember to get between the toes and keep the toenails trimmed and short. If the feet feel dry or there are signs of dryness or cracking, use a moisturizer designed for the feet.
When using moisturizer on the feet, try to avoid applying between the toes. If cream or lotion sits too long, they can cause fungal and bacterial growth. When moisturizer is used between the toes, it can also cause the skin to soften too much.
Shoes are also an important aspect of foot care. When one is picking out shoes, make sure they are the correct size. Shoes need to be snug, but not too tight. On the other hand, if shoes are too loose they can cause foot problems as well. It is highly recommended that shopping for new shoes be done later in the day. The reason for this is that the feet will have settled and swelled to their full size by then. To keep your feet at their most healthy, avoid wearing high heels or flip flops too often. Instead, choose shoes that are good for your feet. Good shoes pad the soles of your feet and support the arches and ankles.
Socks should also be worn daily with closed-toe shoes. They may feel hot during the summer months, but they absorb sweat and moisture off the feet. Without socks, the build-up of sweat in a closed-toe shoe can cause fungal problems and athlete's foot.
The best thing to remember in every day foot care is that shoes do make a difference. If you spend a lot of time on your feet, make sure that your shoes show no signs of wear. Shoes should offer ample support for the arches and the overall foot. Additionally, try to make foot cleaning and maintenance a daily habit. If you keep these things in mind, your feet will stay healthy and safe.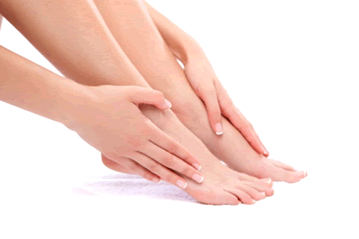 According to podiatrist Dr. Jackie Sutera, there are several tips that women can follow when treating their feet for pedicures. Make sure to properly clean and moisturize your feet, keep your shoes clean through proper maintenance, invest in shoes with efficient support and cushioning, and to occasionally let your toenails breathe in between pedicures, removing the polish completely. Also avoid maintenance such as shaving on your legs and feet right before a manicure, to prevent bacterial infections being contracted through shaving cuts.
Every day foot care is very important, especially for those that are lacking the proper foot care resources. For more information about everyday foot care, consult with Dr. Jon M. Sherman of Kentlands Foot & Ankle Center . Our doctor will assess your condition and provide you with quality foot and ankle treatment.
Every Day Foot Care
Often, people take care of their bodies, face and hair more so than they do for their feet. But the feet are a very important aspect of our bodies, and one that we should pay more attention to. After all, without our feet, we would not be able to perform most daily tasks. It is best to check your feet regularly to make sure there are no new bruises or cuts that you may not have noticed before, for example.
For dry feet, moisturizer can easily be a remedy and can be applied as often as necessary to the affected areas. Wearing shoes that fit well can also help you maintain good foot health, as well as making it easier to walk and do daily activities without the stress or pain of ill-fitting shoes, high heels, or even flip flops.
Also, wearing clean socks with closed shoes is important to ensure that sweat and bacteria do not accumulate within the shoe. Clean socks help to prevent athlete's foot, fungi problems, bad odors, and can absorb sweat.
If you have any questions please feel free to contact our office located in Gaithersburg, MD . We offer the newest diagnostic and treatment technologies for all your foot and ankle needs.
Read more about Everyday Foot Care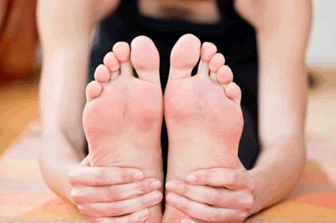 Stretching the feet is recommended especially if you have foot conditions such as plantar fasciitis, or pain in the heels. Stretches recommended by Athletics Weekly involve raising and lifting your toes off of the floor and picking up marbles with your feet. These stretches are designed to improve your feet's flexibility and balance as well as address any foot conditions that you may have.
Stretching the feet is a great way to prevent injuries. If you have any concerns with your feet consult with Dr. Jon M. Sherman of Kentlands Foot & Ankle Center . Our doctor will assess your condition and provide you with quality foot and ankle treatment.
Stretching Your Feet
Being the backbone of the body, the feet carry your entire weight and can easily become overexerted, causing cramps and pain. As with any body part, stretching your feet can serve many benefits. From increasing flexibility to even providing some pain relief, be sure to give your feet a stretch from time to time. This is especially important for athletes or anyone performing aerobic exercises, but anyone experiencing foot pain or is on their feet constantly should also engage in this practice.
Good ways to stretch your feet are:
Crossing one leg over the others and carefully pull your toes back. Do 10-20 repetitions and repeat the process for each foot
Face a wall with your arms out and hands flat against the wall. Step back with one foot and keep it flat on the floor while moving the other leg forward. Lean towards the wall until you feel a stretch. Hold for 30 seconds and perform 10 repetitions for each foot
Be sure not to overextend or push your limbs too hard or you could risk pulling or straining your muscle
Individuals who tend to their feet by regular stretching every day should be able to minimize foot pain and prevent new problems from arising.
If you have any questions please feel free to contact our office located in Gaithersburg, MD . We offer the newest diagnostic and treatment technologies for all your foot and ankle needs.
Read more about stretching the feet.
Debilitating foot pain is a problem for many people. But just as stretching the torso can help alleviate back pain, stretching the feet can also help mend existing foot problems and prevent future ones.
The feet, as the body's foundation, carry the body's entire weight and can get easily strained from overexertion. Persistent sharp pain and cramping in the feet are often common concerns. Foot pain and foot problems can be due to any number of causes, and in many cases pain may be eased without medication or doctor visits. It is always a good idea, however, to first rule out any serious medical issues with a physician.
Stretching can help relax the feet and alleviate pain, but is especially important before heavy aerobic exercise. Stretching before such activities can help you avoid experiencing painful cramps or strained foot muscles. Stretches should be performed slowly and deliberately without forceful pulling. The stretch should be held for several seconds before relaxing.
A great way to stretch out and loosen up the foot muscles while sitting is to cross one leg over the other and pull the toes carefully back without overextending. Start by resting the left ankle on the right knee. With the left hand, gently flex the left foot by pulling back on the toes. Do not pull too hard; just hard enough to feel the stretch in the arch of the foot. Then point the toes of the left foot as far as you can. Rotate the motion of pointing with pulling back on the toes. This should relax and stretch the muscles on the bottom and the top of the foot. Doing this stretch ten to twenty times should bring relief. Repeat the whole process for the other foot by resting the right ankle on the left knee.
A stretch that focuses on the often injured Achilles tendon involves standing and facing a wall with your arms out and hands flat against the wall. Step back with one foot, keeping it flat against the floor. Move the other leg forward and lean toward the wall. You should feel a stretch through the back of your leg and your Achilles tendon, but do not push yourself too much. Stop when you feel a stretching sensation, and hold for 30 seconds. Ten repetitions may be done for each foot.
Stretching the feet is important for athletes or those performing aerobic exercise, but it can also help anyone with foot pain caused by poor footwear, plantar fasciitis, or long hours standing and walking. Individuals who tend to their feet by regularly stretching every day should be able to minimize foot pain and prevent new problems from arising.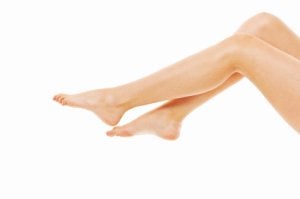 As our feet lack oil glands, they are susceptible to dryness. Cracked heels are a condition of the feet in which our feet become prone to dryness and layers of dry skin accumulate over time. Some DIY treatments for curing cracked heels and dry feet include applying a mixture of rice vinegar, olive oil and salt. Soak your feet in the mixture for up to 30 minutes, repeating the process for as long as 3 weeks. Make sure to apply moisturizer after soaking your feet.
Cracked heels are unsightly and can cause further damage to your shoes and feet. If you have any concerns, consult with Dr. Jon M. Sherman of Kentlands Foot & Ankle Center . Our doctor will assess your condition and provide you with quality foot and ankle treatment.
Cracked Heels
Cracked heels are unappealing, and make it harder for you walk around in sandals. Not only may they look bad, but they can also tear stockings, socks, and wear out your shoes. There are several methods to help restore a cracked heel and prevent further damage.
How do you get them?
Dry skin is the number one culprit in creating cracked heels. Many athletes, walkers, joggers, and even swimmers suffer from cracked heels. Age and skin oil production play a role to getting cracked heels as well.
Promote Healing
Over the counter medicines can help, especially for those that need instant relief, or who suffer from chronic dry feet.
Wear Socks – wearing socks with medicated creams, helps lock in moisture so it can stay on longer.
Moisturizers – applying it both day and night will help alleviate dryness which causes cracking.
Pumice Stones – these remove dead skin, and then you can massage cream onto your foot. This way the cream will be absorbed. The skin needs to be exfoliated; therefore the outer layer dead skin needs removal.
Change in Diet
Eating healthy, with a well-balanced diet, will give the skin a fresh and radiant look. Your body responds to what kinds of food you ingest. Omega-3 fatty acids and zinc supplements will also help with skin tissue.
Most importantly seek a health professional for foot care if something is wrong or doesn't seem to be working. A podiatrist will help you with any questions or information needed.
If you have any questions please feel free to contact our office located in Gaithersburg, MD . We offer the newest diagnostic and treatment technologies for all your foot and ankle needs.
Read more about cracked heels.
Cracked heels can make life very frustrating and embarrassing when sandal season comes around. Not only are they an aesthetic issue, they can also tear stockings, socks, and even wear out our shoes faster. When severe, they may cause pain or infection.
Cracked heels are a problem for those who are athletic, who may walk a lot, and who have dry skin especially. Those who use medication that dry the skin, swim often, wear certain types of shoes, and who are diabetic may have trouble with cracked heels. Seniors whoseskin produces less oil may alsohave trouble with cracked feet. There is no one way to develop cracked feet, and there is no cure.
Today, the market consists of numerous products that have a variety of ingredients to promote healing. Some of these are over-the-counter.Others are prescribed by a doctor, especially for those who have chronic dry feet and heels.
Some doctors recommend wearing socks at night for those with rough skin. This helps further healing, and helps creams stay on longer and better absorb into the skin.
One way to alleviate dryness that causes cracked heels is by using moisturizers both day and night. Another way is to make sure the skin is clean and dry at all times. Using a pumice stone to remove dead skin before putting on moisturizer can also help. Cracked heels will not respond to the cream unless the outer layer of skin is first removed through exfoliation. After exfoliation, lotion or ointment will be absorbed by the skin more easily.
Foods that produce healing and balance can also help the skin from within. Everything that is put into the body can either help it or hurt it. Taking supplements of omega-3 fatty acids and zinc can also be very beneficial.
Nevertheless, not all products are guaranteed to help treat cracked feet. Seeing a professional is best if other treatments options were unsuccessful. A podiatrist should be able to give the best advice to help with this problem.
Archives
2017
2016
2015
2014