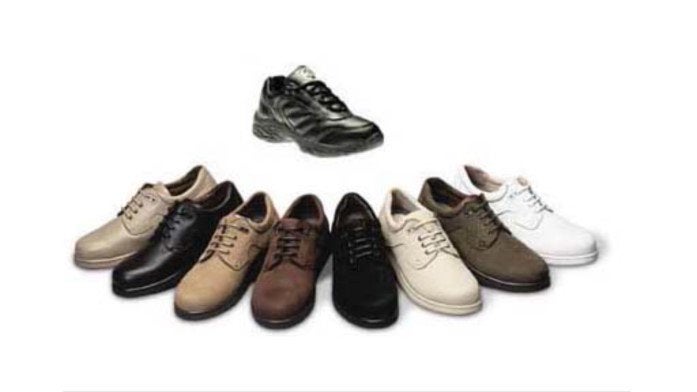 The Cannes Film Festival has recently been reported prohibiting women wearing flat shoes from participating in the festivities. Although the festival located in France has been notoriously formal, many women opt out of wearing high heels because medically, their feet cannot handle the discomfort high heels cause. Additionally there is no mention of high heels being a priority anywhere on the dress code located on the festival's website. Many took to twitter to discuss the news when writer Caitlin Moran stated, "Utterly extraordinary it's reported that women – including those with disabilities – are being turned away at Cannes for not wearing heels."
High heels can cause a ton of foot problems and some women just cannot wear them. If you have any concerns about your feet contact Dr. Jon M. Sherman of Kentlands Foot and Ankle Center . Our doctor will treat your foot and ankle needs.
Effects of High Heels on the Feet
High heels are popular shoes among women because they are associated with femininity. Despite their appeal, they can cause many health problems if worn too frequently.
What parts my body will be affected by high heels?
Ankle Joints
Achilles Tendon – may shorten and stiffen with prolonged wear
Balls of the Feet
Knees – heels cause the knees to bend constantly, creating stress on them
Back – they decrease the spine's ability to absorb shock, which may lead to back pain. Also, the vertebrae of the lower back may compress.
What kinds of foot problems can develop from wearing high heels?
Corns
Calluses
Hammertoe
Bunions
Morton's Neuroma
Plantar Fasciitis
How can I still wear high heels and maintain foot health?
If you want to wear high heeled shoes, make sure that you are not wearing them every day, as this will help prevent long term physical problems. Try wearing thicker heels as opposed to stilettos to distribute weight more evenly across the feet. Always make sure you are wearing the proper shoes for the right occasion, such as sneakers for exercising. If you walk to work, try carrying your heels with you and changing into them once you arrive at work. Adding inserts to your heels can help cushion your feet and absorb shock; you can buy either full inserts or metatarsal pads.
If you have any questions please feel free to contact our office located in Gaithersberg, MD . We offer the newest diagnostic tools and technology to treat your foot and ankle needs.
Read more about the effects of high heels.
For hundreds of years, women have been wearing various kinds of high-heels for mostly aesthetic reasons. Women who wear high-heels appear to be taller and to have longer and thinner legs, and the wearer's gait and posture changes. Though high-heels have had an association with femininity and have kept them popular over the years, there are definite health problems caused by wearing them too frequently.
The motion of the ankle joints is limited when heels are worn. The ankle joint is very important to the body when it comes to walking. Because of their location, these joints have a great deal of weight put on them. Thus, it is very important to keep them as healthy as possible. The Achilles tendon is the main tendon in the ankle. Wearing high-heels too often, studies have shown, can cause the calf muscle and Achilles tendon to shorten and stiffen, which can cause problems when shoes without heels are worn.
By putting a great deal of pressure on the ball of the foot, by forcing the toes into a small toe box, high-heels can cause or may worsen many foot problems, such as corns, hammertoe, bunions, Morton's neuroma and plantar fasciitis.
Not only does wearing very high-heels regularly have negative effects on the feet, the rest of the body can suffer as well. The knees, one of the most important joints in the entire body, can be affected by wearing high-heels. High-heels causes the knees to stay bent all the time. Also, it can cause them to bend slightly inward as well. Doctors believe that women can suffer from osteoarthritis later in life because of constantly walking like this. By limiting the natural motion of the foot during walking, high-heels also cause an increased in stress on the knees.
Similarly, the back may also be affected by high-heels because it causes the back to go out of alignment. If high-heels are worn constantly, the spine's ability to absorb shock can cause continued back pain. They can compress the vertebrae of the lower back, and can overuse the back muscles.
However, this is not to say that high-heels can never be worn. If worn occasionally, they will not cause serious problems. They should not be worn every day in order to avoid the long-term physical health problems of the feet, knees, ankles, and back like mentioned above.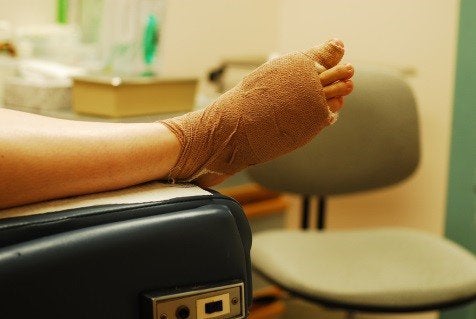 LeBron James is the most recent Cleveland Cavalier to suffer from injury this season; however, he is still allowed to stay in the game. Kevin Love and Kyrie Irving both have injuries and need to keep pushing James to get ahead. The injury occurred when James stepped on Derrick Rose's foot during a fast break. The move caused him to turn his ankle, writhing in pain on the ground before walking to the bench for treatment. For now, LeBron James is still capable of playing for the Cavaliers.
Ankle injuries are common, but need to be treated as soon as possible. If you have any concerns about your ankles contact Jon M. Sherman of Kentlands Foot and Ankle Center . Our doctor will treat your foot and ankle needs.
What To Know About Ankle Injuries
It is very common to incur an injury to the ankle. As the point of connection from the leg and the foot, the ankle is susceptible to sprains and fractures due to its location. Ankle sprains, the most common ankle injury, occur when the foot is twisted in an unnatural way. This unnatural twisting of the ankle results in severe pain as a result of inflammation and swelling. This inflammation and swelling comes from fluid leakage into the tissues, which sensitize and place additional pressure on the nerves. Heavy blood flow also occurs, which is why swollen ankles are warm to the touch. Ankle sprains can occur by the following means:
Sports injuries
Slipping on stairs
Walking on uneven ground
While ankle sprains can be minor, if you are experiencing severe pain, bone deformity, loss of sensation or even an inability to walk, it is a sure sign that you require immediate medical attention. X-rays could determine potential fractures. The ankle can experience injury in the joint, tendons, and ligaments. Anytime there is an ankle injury ice should be applied to the injured area in order to reduce inflammation. To reduce pressure, elevate the ankle above the level of the heart and apply an elastic bandage as needed.
If you have any questions please feel free to contact our office located in Gaithersburg, MD . We offer the newest diagnostic tools and technology to treat your foot and ankle needs.
Ankle injuries are a very common injury to the foot. The ankle is the point of connection from the leg and the foot. The joint is the point where the tibia (big leg bone), fibula (small leg bone) and the talus (top of the foot) all meet. These bones are held together by tendons and ligaments. Tendons hold muscles to bone and ligaments hold bones together. An ankle sprain involves the ligaments of the foot.
Ankle sprains occur when the foot is twisted in an unnatural way. While sports injuries have many ankle sprains, other common experiences such as slipping on stairs or walking on uneven ground can result in an ankle sprain. When the foot twists in a way that is not natural, the ligaments will be stretched.
Immediately after an ankle sprain occurs, there will be fluid leakage into the tissues. This causes inflammation and swelling which results in pain. Nerves are sensitized and the increase in fluids puts additional pressure on the nerves which causes an increase in pain. When this occurs, heavy blood flow to the injured area will often result in heat, making swollen ankles warm to the touch.
Severe pain, deformity of the bone, loss of feeling, and inability to walk for even minimal amounts of time are indications that you need to seek immediate medical attention. The ligaments that hold the foot bones together might become too stretched which can cause the bone to feel out of place or dislocated. A podiatrist will provide an examination to make sure there is feeling present, adequate movement, and that the tendons have not been damaged. If symptoms warrant it, an x-ray will be ordered to determine possible fractures.
One of the first things to do after an ankle injury is to apply ice to the area of injury. The immediate use of ice helps to reduce inflammation, but should not be applied directly to the injured area. Reducing the pressure on the ankle is another key step when treating sprains. This involves elevating the ankle above the level of the heart to reduce the flow of fluids. An elastic bandage may be needed which provides support for the ankle and prevents inflammation through compression.
Limiting motion of the injured ankle will help speed up the recovery. Using a brace or crutch is an effective way to limit motion and promote a speedy recovery. If properly addressed, ankle sprains can heal in a minimal amount of time. There may be some limitation as to movement, however, stretching and rotation of the joint can get it back to prior injury status.
Plantar warts are warts that are only found on the feet, hence the term "plantar", which means "relating to the foot." They are caused by the human papillomavirus, or HPV, and occur when this virus gets into open wounds on the feet. The warts themselves are hard bumps on the foot and easily recognizable, mostly found on the heels or ball of the foot. For the most part, plantar warts are non-malignant, but they can cause some pain, discomfort, and are often unsightly, so removing them is often the first step taken.
Plantar warts can cause some pain while standing, sometimes felt as tenderness on the sole of your foot. Unless the wart has grown into the foot behind a callus, you will be able to see the fleshy wart. Because plantar warts are not cancerous or dangerous, a podiatrist should only be consulted if there is an excess amount of pain associated with having them, if they are affecting your walking, or if they continually come back. However, anyone who suffers from diabetes or a compromised immune system disease should seek out care immediately.
Podiatrists are easily able to diagnose plantar warts. They usually scrape off a tiny bit of the rough skin in order to make tiny blood clots visible and show the inside of these warts. However, a biopsy can be done if the doctor is not able to diagnose them from simply looking at them. Although plantar warts usually do not require an excessive amount of treatment, there are ways to go about removing them. A common method is to freeze them off using liquid nitrogen, removing them using an electrical tool or burning them off via laser treatment. For a less invasive treatment option, topical creams can be used through a doctor's prescription, which may help given enough time and patience.
If you prefer to use home remedies an apple cider vinegar soak is believed to help remove the wart. This treatment takes time. Soak your infected foot in the vinegar for 20 minutes before using a pumice stone to remove any loose skin from the wart. Keep the wart covered for protection in between daily treatments.
The best way to avoid developing plantar warts is to avoid walking barefoot in public places, especially when you have open sores or cuts on your feet. It is also important to avoid direct contact with any other warts you might have or warts other people might have, as they are highly contagious.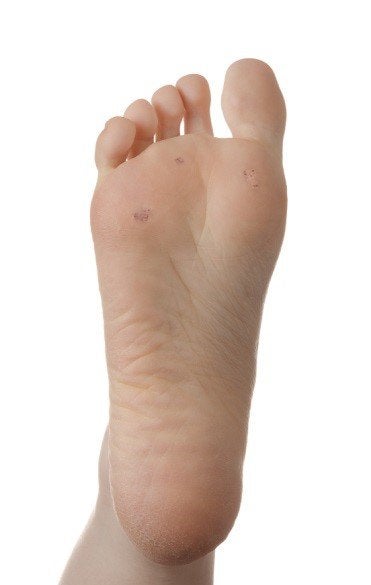 Dr. Faith of The Columbus Dispatch recently discussed the long term effects of plantar warts. Although plantar warts are caused by Human Papillomavirus (HPV) and certain strains of the virus have been associated with cancer, this does not mean your plantar wart will result in future complications. Often time most warts are benign and once they are treated effectively and gone, they will come back to cause additional problems. On certain occasions when a wart is not effectively treated, the virus might reappear on the skin after months or years of remaining unnoticed.
Plantar warts can be very unsightly and uncomfortable. If you have any concerns with plantar warts on your feet contact Dr. Jon M. Sherman of Kentlands Foot and Ankle Center . Our doctor will treat your foot and ankle needs.
About Plantar Warts
Plantar warts are the result of HPV, or human papillomavirus, getting into open wounds on the feet. They are mostly found on the heels or balls of the feet.
While plantar warts are generally harmless, those experiencing excessive pain or those suffering from diabetes or a compromised immune system require immediate medical care. Plantar warts are easily diagnosed, usually through scraping off a bit of rough skin or by getting a biopsy.
Symptoms
Legions on the bottom of your feet, usually rough and grainy
Hard or thick callused spots
Wart seeds, which are small clotted blood vessels that look like little black spots
Pain, discomfort, or tenderness of your feet when walking or standing
Treatment
Freezing
Electric tool removal
Laser Treatment
Topical Creams (prescription only)
Over-the-counter medications
To help prevent developing plantar warts, avoid walking barefoot over abrasive surfaces that can cause cuts or wounds for HPV to get into. Avoiding direct contact with other warts, as well as not picking or rubbing existing warts, will help prevent the further spread of plantar warts. However, if you think you have developed plantar warts, speak to your podiatrist. He or she can diagnose the warts on your feet and recommend the appropriate treatment options.
If you have any questions please feel free to contact our office located in Gaithersburg, MD . We offer the newest diagnostic tools and technology to treat your foot and ankle needs.
Read more about plantar warts.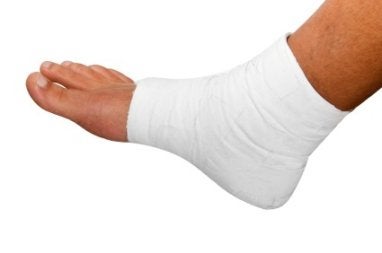 Florence Welch , lead singer of Florence and the Machine, sustained a broken foot while performing at Coachella this past month. The musician sent out a message to her fans via Facebook stating, "I'm so sorry to say, that after what was one of my favorite shoes ever at Coachella, I have discovered I have broken my foot from leaping off the stage." Although she is devastated she cannot perform to her typical extent, Welch understands that she has to scale back until her foot is properly healed. "This album was so much about making something from what was broken, so let's see what we can do with this," Welch stated enthusiastically.
A broken foot requires immediate medical attention and treatment to prevent exacerbation. If you are seeking treatment for a broken foot, visit podiatrist Dr. Jon M. Sherman of Kentlands Foot and Ankle Center . Our doctor will assess your injury and provide you with quality treatment.
Broken Foot Causes, Symptoms, and Treatment
A broken foot is caused by one of the bones in the foot typically breaking when bended, crushed, or stretched beyond its natural capabilities. Usually the location of the fracture indicates how the break occurred, whether it was through an object, fall, or any other type of injury.
Common Symptoms of Broken Feet:
Bruising
Pain
Redness
Swelling
Blue (foot)
Numbness
Cold
Misshapen
Cuts
Deformities
Those that suspect they have a broken foot shoot seek urgent medical attention where a medical professional could diagnose the severity.
Treatment for broken bones varies depending on the cause, severity and location. Some will require the use of splints, casts or crutches while others could even involve surgery to repair the broken bones. Personal care includes the use of ice and keeping the foot stabilized and elevated.
If you have any questions please feel free to contact our office located in Gaithersburg, MD . We offer the newest diagnostic tools and technology to treat your foot and ankle needs.
Read more about Broken Feet
One out of ten broken bones is reported in the feet. When an object crushes, bends, or stretches the bone beyond acceptable ranges, bones break. A break in the foot is either a fracture or a straight break.
The location of any break can tell you how the break happened. Toes, for instance, break typically as a result of something being kicked hard and with great force. Heel breaks almost always are as a result of an improper landing from great height. Twists or sprains are the other two frequent occurrences, and as with all usual breaks, result from unexpected accident or sudden injury. As with stress fractures, breaks form as a process over time—repeated stress on already present cracks. Runners, dancers, and gymnasts are the usual athletes who receive this type of break—stress fractures occur from incredible pressure on the feet. It is no surprise these athletes bear the majority of reported fractures.
Pain, swelling, bruising, and redness are all indicative of the typical symptoms from a broken foot. Severe pain—to the point of not being able to walk—usually depends on the location of the break in the foot. Toes are on the lower scale of pain threshold, but heels are high—as are a few other particular bones. As the severity of the broken foot increases, symptoms like blueness, numbness, misshaping of the foot, cuts, or deformities will crop up and indicate the requirements of a medical professional with access to an x-ray facility.
Prior to this severe point however, reduction of pain and swelling at home should be the first priority. Elevate and stabilize the foot, don't move it. Immobilization of the foot is the next priority, so jury-rigging a homemade splint is acceptable. Keep in mind while creating a splint, any increase of pain or cutting off blood circulation means that the splint should be removed immediately. Use ice to decrease swelling and alleviate pain symptoms.
When dealing with a medical center, the patient should note that the treatment will be different from what is stated dependent on which foot bone has been fractured and the cause of the break. Crutches, splits, or casts are common treatments while surgery has been known to be used in more severe cases in order to repair the break in the bone or bones.
Archives
2017
2016
2015
2014