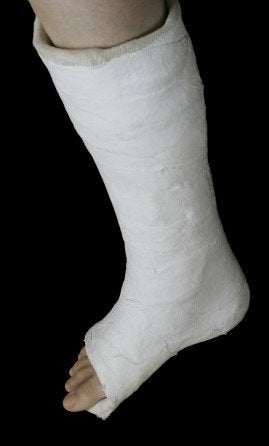 Michal Rozsival of the Chicago Blackhawks suffered a broken ankle during Game 4 of the series against Minnesota Wild. The injury occurred when Rozsival skated backwards, fell and landed unnaturally. Although the Blackhawks still won the game and will move on into the Western Conference Final, Rozsival had to be carried off the ice by teammates Brad Richards and Duncan Keith and will not return until next season. Dr. Michael Terry confirmed the player will need surgery to treat the injury..
Broken ankles need immediate treatment. If you have any concerns about your feet and ankles contact Dr. Jon M. Sherman of Kentlands Foot and Ankle Center . Our doctor will treat your foot and ankle needs.
Broken Ankles
A broken ankle is experienced when a person fractures their tibia or fibula in the lower leg and ankle area. Both these bones are attached at the bottom of the leg and combine to form what we know to be our ankle.
When a physician is referring to a break of the ankle, he or she is usually referring to a break in the area where the tibia and fibula are joined to create our ankle joint. Ankles are more prone to fractures because the ankle is an area that suffers a lot of pressure and stress. There are some obvious signs when a person experiences a fractured ankle and the following symptoms may be present.
Symptoms of a Fractured Ankle
Excessive pain when the area is touched or when any pressure is placed on the ankle
Swelling around the area
Bruising of the area
Area appears to be deformed
If you suspect an ankle fracture, it is recommended to seek treatment as soon as possible. The sooner you have your podiatrist diagnose the fracture, the quicker you'll be on the way towards recovery.
If you have any questions please feel free to contact our office located in Gaithersburg, MD . We offer the newest diagnostic tools and technology to treat your foot and ankle needs.
Read more about broken ankles.