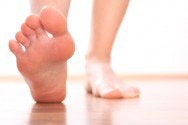 Academy award nominated Hollywood Actor, Jake Gyllenhaal, is known for taking on intense roles where he needs to be extremely fit. Recently Gyllenhaal, the self-proclaimed exercise addict has taken up barefoot running and states that activity has done wonders to reduce the usual muscles soreness he feels after runs with shoes. Although the Southpaw actor particularly enjoys barefoot running, he states, "I've had to teach myself how to slow down a bit, because I get so into it, it becomes a real addiction."
Barefoot running has its own share of benefits and disadvantages. To learn more about this trend, consider speaking to Dr. Jon M. Sherman of Kentlands Foot and Ankle Center . Our doctor will explain the facts of barefoot running and help you decide if it's a practice you'd like to take up.
Barefoot Running
The Impact of Barefoot Running
-Running without shoes changes the motion of your running, as most running is done by landing on the heel of the feet.
-Running barefoot requires a different way of running; the landing is done on the front part of the feet.
The Advantages of Barefoot Running
-When running and landing on the front feet, the impact on the feet and ankle is reduced, this can reduce stress injuries.
-It strengthens muscles in the feet and ankles and the lower legs.
-Balance of the body is improved and there is a greater sensory input from the feet to the rest of the body.
The Drawbacks of Barefoot Running
-No protection while running, makes it likely that runners will land on sharp objects and scrapes, bruises and cuts on the feet will result.
-Blisters may form.
-Possibility of plantar fascia problems.
-Risk of getting Achilles tendonitis.
So what can runners do to make barefoot running safe? It's best to make a slow transition from running shoes to barefoot running. Once the feet begin to adjust, try walking, then jogging and gradually increasing the distance. Minimalist running shoes may also be an option.
If you have any questions, please contact our office located in Gaithersburg, MD . We offer the newest diagnostic and treatment technologies for all your foot care needs.
Read more about Barefoot Running