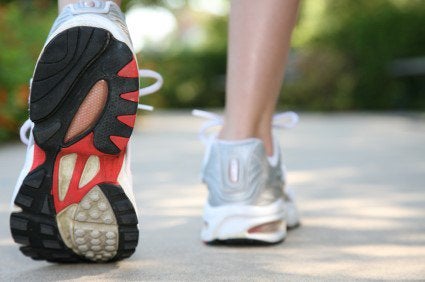 Celebrity runners such as Tiki Barber, Katrina Bowden, and Uzo Aduba recently shared their marathon running tips while training for the Airbnb Brooklyn Half Marathon, TCS New York City Marathon, and the Boston Marathon. "I'll soak in an ice tub, do lots of stretching. And I get massages on a regular basis which helps a ton," stated Tiki Barker on his recovery. Prone to plantar fasciitis, "30 Rock" star Bowden states, "I have to roll out my feet on a plastic ball every couple of days." This helps ease the stabbing heel pain caused by the condition. Uzo Aduba of "Orange is the New Black" recalls overrunning and developing what she thought was a fracture in her foot. Since then she has learned to pace herself and slow down in order to progress.
Runners can still be prone to running injuries even with proper precautions. If you are suffering from a running injury see Dr. Jon M. Sherman from Kentlands Foot and Ankle Center . Our doctor will provide you with quality treatment and assist you with all of your foot and ankle concerns.
How to Prevent Running Injuries
Many common running injuries are caused by overuse and overtraining. When the back of the kneecap starts wearing out and starts causing pain in your knee, this is commonly referred to as runner's knee. Runner's knee is a decrease in strength in your quadriceps and can occur if you're not wearing properly fitted or supporting shoes. To prevent runner's knee, focusing on hip strengthening is a good idea, as well as strengthening your quads to keep the kneecaps aligned.
What Are Some Causes of Running Injuries?
– One cause of a common running injury is called iliotibial band syndrome.
– Plantar fasciitis is also another common injury.
– Stress fractures can occur from overtraining, lack of calcium, or even your running style.
Best Ways to Prevent Running Injuries
– Wear footwear that fits properly and suits your running needs.
– Running shoes are the only protective gear that runners have to safeguard them from injury.
– Make a training schedule. Adding strengthening exercises as well as regular stretching can help keep you strong and limber and can lessen the possibility of injuries.
– Stretching keeps muscles limber, this will help you gain better flexibility.
If you have any questions, please feel free to contact our office located in Gaithersburg, MD . We offer the newest diagnostic and treatment technologies for all your foot and ankle needs.
Read more about How to Prevent Running Injuries