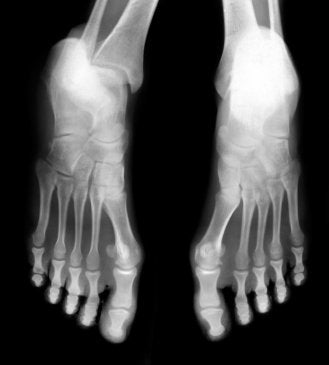 Guard T.J. Lang of the Green Bay Packers faced an upset when he reinjured his already broken foot during the NFC Championship Game against the Atlanta Falcons. Following the 44-21 match, which went to Atlanta, many wondered if Lang's goodbyes would be his last. Next month, the former Packers guard will officially become a free agent. Lang, now 29, hopes he'll be returning to Green Bay. "I'm just hoping (the NFC Championship Game) wasn't the last time I get to put on that helmet," Lang said. "It's tough, man. Obviously, I'll take some time, take a couple days, to rest up and recover and see what happens. I think everybody in this locker room knows that this is where I want to be."
A broken foot requires immediate medical attention and treatment. If you need your feet checked, contact Dr. Jon M. Sherman of Kentlands Foot & Ankle Center . Our doctor will treat your foot and ankle needs.
Broken Foot Causes, Symptoms, and Treatment
A broken foot is caused by one of the bones in the foot typically breaking when bended, crushed, or stretched beyond its natural capabilities. Usually the location of the fracture indicates how the break occurred, whether it was through an object, fall, or any other type of injury.
Common Symptoms of Broken Feet:
Bruising
Pain
Redness
Swelling
Blue (foot)
Numbness
Cold
Misshapen
Cuts
Deformities
Those that suspect they have a broken foot shoot seek urgent medical attention where a medical professional could diagnose the severity.
Treatment for broken bones varies depending on the cause, severity and location. Some will require the use of splints, casts or crutches while others could even involve surgery to repair the broken bones. Personal care includes the use of ice and keeping the foot stabilized and elevated.
If you have any questions please feel free to contact our office located in Gaithersburg, MD . We offer the newest diagnostic and treatment technologies for all your foot and ankle needs.