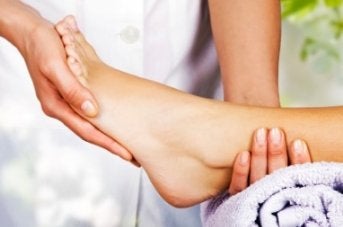 Foot pain is something that may plague any active adult, often manifesting in the form of plantar fasciitis or Achilles tendonitis. Achy feet caused by inflammation can be eased, however, with the help of certain exercises . For starters, an easy foot roll with a foot roller from the ball of the foot to the heel can be performed while standing or sitting. This exercise can be repeated between feet and performed multiple times per day. Another exercise is the calf stretch, which can be done by propping the ball of the foot against the wall with the heel grounded. Slowly lean against the wall and hold to feel a slight stretch. Calf raises are another simple exercise. Both of these calf exercises can be performed multiple times per day.
Exercising your feet regularly with the proper foot wear is a great way to prevent injuries. If you have any concerns about your feet, contact Dr. Jon M. Sherman of Kentlands Foot & Ankle Center . Our doctor can provide the care you need to keep you pain-free and on your feet.
Exercise for Your Feet
Exercise for your feet can help you to gain strength, mobility and flexibility in your feet. They say that strengthening your feet can be just as rewarding as strengthening another part of the body. Your feet are very important and often we forget about them in our daily tasks. But it is because of our feet that are we able to get going and do what we need to. For those of us fortunate not to have any foot problems, it is an important gesture to take care of them to ensure its good health in the long run.
Some foot health exercises can include ankle pumps, tip-toeing, toe rise, lifting off the floor doing reps and sets, also flexing the toes and involving the shins may help too. It is best to speak with your doctor regarding how to do these fitness steps and how often is right for you. Everyone's needs and bodies are different and it varies from individual to individual to determine what should be done for you to maintain strength in your feet.
Once you get into a routine of doing regular exercise, you may notice a difference in your feet and how strong they may become.
If you have any questions please feel free to contact our office located in Gaithersburg, MD . We offer the newest diagnostic and treatment technologies for all your foot and ankle needs.
Read more about exercising your feet.