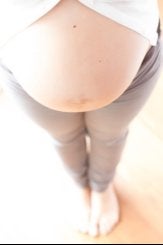 Although soon-to-be moms have many things to take care of during pregnancy, it is additionally important that feet and ankles are paid attention to. During pregnancy many women experience natural weight gain in addition to swollen ankles, feet, and flat feet. Accordingly there are certain exercise techniques that can help reduce these foot ailments. If sitting for a long period of time, take short walks regularly to reduce swelling in the feet and ankles. To reduce over-pronation or flattening of the arch, stretch the calves, rotate the ankles in a circular motion, and try the reverse and standing calf raise.
Pregnancy can put a tremendous amount of stress on the feet. If you have any concerns contact Dr. Jon M. Sherman of Kentlands Foot and Ankle Center . Our doctor will treat your foot and ankle needs.
What foot problems can arise during pregnancy?
One problem that can occur is over-pronation, which occurs when the arch of the foot flattens and tends to roll inward. This can cause pain and discomfort in your heels while you're walking or even just standing up, trying to support your baby.
Another problem is edema, or swelling in the extremities. This often affects the feet during pregnancy, but tends to occur in the later stages.
How can I keep my feet healthy during pregnancy?
Wearing orthotics can provide extra support for the feet and help distribute weight evenly
Minimize the amount of time spent walking barefoot
Wear shoes with good arch support
Wear shoes that allow for good circulation to the feet
Elevate feet if you experience swelling
Massage your feet
Get regular, light exercise, such as walking, to promote blood circulation to the feet
If you have any questions please feel free to contact our office located in Gaithersburg, MD . We offer the newest diagnostic tools and technology to treat your foot and ankle needs.
Read more about pregnancy and feet.