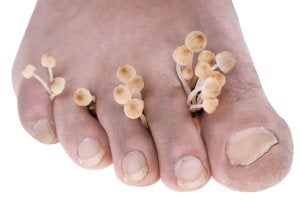 Toenail fungus is a foot condition that many people can fall prey to. Symptoms of the condition include yellow or brown nails, nails that split or crumble, or nails that lift up from the nail bed. To avoid developing this uncomfortable and often unsightly condition, professionals recommend the following tips. Keep the toenails trimmed short to avoid debris from building up beneath the nails. Wear shoes that properly fit and that are breathable, as fungus thrives in warm and moist environments. Use antifungal sprays or powders when needed, avoid going barefoot in public facilities, and never share shoes or nail clippers.
For more information about treatment, contact Dr. Jon M. Sherman of Kentlands Foot & Ankle Center . Our doctor can provide the care you need to keep you pain-free and on your feet.
Toenail Fungus Treatment
Toenail fungus is a problem which affects many people and is hard to get rid of. Fortunately, there are several methods to go about treating toenail fungus.
Antibiotics & Treatments
Lamisil – is the most commonly effective treatment for toenail fungus. It is available as an antibiotic Terbinafine tablet and cream. Terbinafine is a chemical component which kills fungal growth on the body. Applying regular doses will gradually kill the fungal growth. It is important to keep the area clean and air free.
Talcum powder – applying powder on the feet and shoes helps keep the feet free of moisture and sweat.
Sandals or open toed shoes – wearing these will allow air movement and help keep feet dry. They also expose your feet to light, which fungus cannot tolerate. Socks with moisture wicking material also help as well
Alternative Treatments
There are always surgical procedures that are available for toenail fungus. Some people would like immediate quick removal of toenail fungus. Surgeons will be able to cut through and remove the growth using laser surgery. It is important not to try and remove it yourself. Once removed, your old shoes will need to be replaced to avoid reinfection.
If you have any questions please feel free to contact our office located in Gaithersburg, MD . We offer the newest diagnostic and treatment technologies for all your foot and ankle needs.
Read more about Toenail Fungus